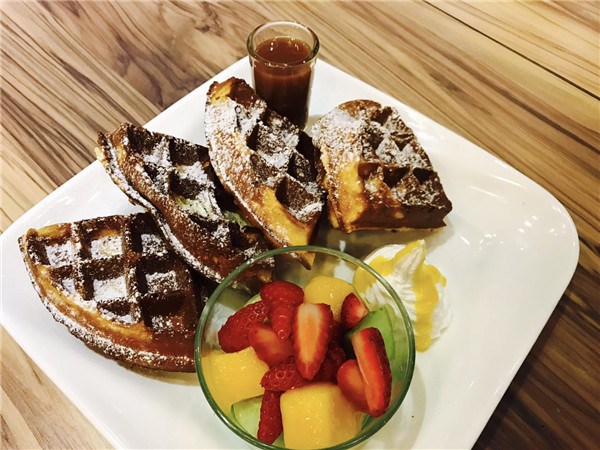 The new waffle meals have less ice cream and more fresh fruits. (Photo by Jiang Wanjuan/chinadaily.com.cn)
It seems Beijing's cold weather has not cast a chill on Ice Monster's business. The famous Taiwanese brand known for its silky smooth shaved ice is still doing brisk business at its Sanlitun location even as the temperature dips.
For many, Ice Monster is associated with its legendary mango shaved ice, which is a must-eat when visiting Taiwan, and was named the top 10 desserts in the world by CNN. In fact, the ice shop has much more to offer, from fruit popsicles for those on the go, and freshly baked waffles for a quick meal.
Its recently introduced winter products are highlighted by a variety of hot drinks, including fresh fruit tea, black sugar ginger orange juice, and almond tea with pearl barley. Most of them are rich in texture and can make people feel full and warm.
The new waffle meals have less ice cream and more fresh fruits and little pleasant bites such as Oreo cookies to elevate the experience. There are also donuts, which will be served with Ice Monster's iconic caramel sauce.
You can create a "hot and cold" experience by combining the warming new items with its classic Fresh Mango Sensation, mountainous heaps of shaved ice topped with fresh mango, pudding and condensed milk. Caffeine lovers can go with the Coffee Sensation, which is "crazily good" according to its Chinese name. Find out yourself if it lives up to this claim.
You can also find Ice Monster in Beijing at Wangfujing APM and Grand Pacific Mall in Xidan area.