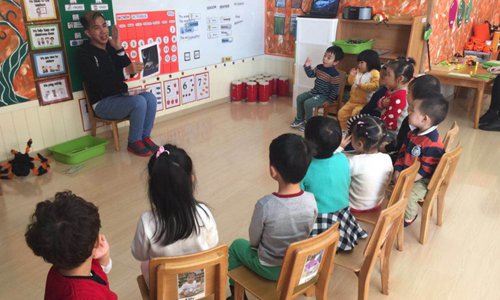 Sixto Julio Piso, a Filipino English teacher gives a class at the Beanstalk International School. (Photo/Courtesy of Sixto Julio Piso)
When 33-year-old Filipino Sixto Julio Piso, who works as an English language, music, and art teacher at the Beanstalk International School in Beijing, heard the news that the restrictions on foreign English language teachers from the Philippines might be relaxed in China, he was very glad.
"I saw on social media that the Chinese government is considering adding the Philippines to the list of native English speaking countries for English teachers," said Piso. "If it comes true, it is really good news for us."
During Philippine President Rodrigo Duterte's recent visit to China, both sides signed many agreements to improve the bilateral relations between China and the Philippines.
A staff member at the State Administration of Foreign Experts Affairs (SAFEA), who prefers to remain anonymous, told Metropolitan that they are considering lowering the threshold for Filipino teachers, but the policy roll out date is yet to be determined.
Filipino teachers and schools interviewed by Metropolitan are already welcoming the possibility, although the parents may have a different opinion.
Before coming to China in 2015, Piso taught English in the Philippines for 10 years. He said that many Filipino teachers are graduates and certified teachers in their country, but due to their "non-native English speaker" status in China, they are often rejected by a school or training center.
Noli Castillano Apachicha, 38, is another Filipino teacher. He has been teaching in Beijing for nine years, and currently works at RISE English, a language training school. He recalled that there were some cases where he was not considered for a job because of his background and skin color.
"Some parents are very particular about natives, and we are not given a chance to showcase our teaching capabilities. But after we are given a chance to teach, some Chinese parents realize that Filipino teachers are also good," said Apachicha.
He thinks that compared with other non-natives, Filipinos are more culturally diverse individuals, and many of them speak English with an American accent, which is preferred by many Chinese parents.
"Young Filipinos have a strong American background, and they can easily get an American accent without many difficulties in speaking. They are born to be good speakers," he said.
Christopher Lipinski, an American and the principal of Joystar International Kindergarten, applauded SAFEA's decision as a move in the right direction.
He said opening up doors to teachers from the Philippines gives schools a better chance at finding quality teachers who love their profession.
"While I understand that placing nationality requirements on English language teachers aims to provide China with teachers with proper accents, there are many other factors that determine whether or not someone is a good teacher," said Lipinski.
He said other qualities, such as patience and respect for the students are also attributes of a good teacher. "[These qualities] are much harder to measure, but I'm confident that over time, SAFEA will use more nuanced ways to improve the quality of teachers in China."
Despite the possible loosening of the laws, the mother of a girl at an international kindergarten, surnamed Wang, still prefers Western English-speaking teachers for her daughter.
"Besides standard accents, Western teachers have a better knowledge of Western culture and experiences," said Wang. "But if the school strongly recommends a qualified, experienced, non-native English language teacher, say from the Philippines, and my daughter loves him or her very much, I will consider it."
Lipinski hopes that Chinese parents can become more accepting of non-native English language teachers. He said during his four-year career as an educator in China, he had met some good teachers with standard English accents from non-native countries, who he thinks should not be banned from teaching simply due to their nationality.
"While there may be an initial pushback against teachers from the Philippines, I believe that parents can quickly realize who is a good teacher after their children have spent time in the class," said Lipinski.