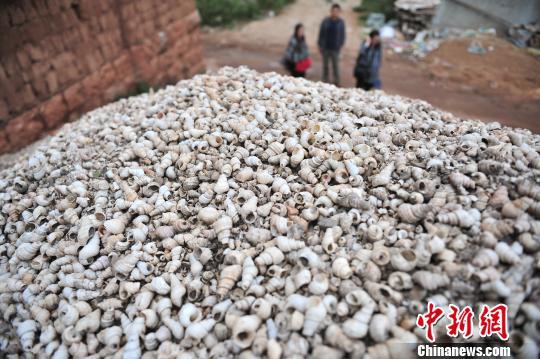 Piles of snail shells are dug out at the site in Yuxi. (Photo/China News Service)
People living 3,400 years ago in southwest China's Yunnan province ate snails and lived in different houses in winter and summer, latest findings from a historical site showed.
The site in Xingyi village of Yuxi city was discovered in July 2015 during construction of a primary school. Houses, tombs, coffins, ash pits, roads, ditches, pottery, stoneware and bronzeware were all found there.
A Xinhua reporter saw piles of snail shells at the site. Zhu Zhonghua, an archaeologist with Yunnan cultural relics and archaeological research institute, said the snails were of two types.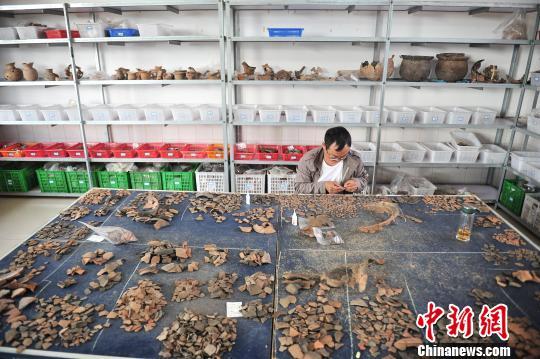 An archeologist works on the excavated relic pieces. (Photo/China News Service)
"One was unique to lakes in Yunnan and they are hard to find today. The other is known to have been used by people in prehistoric times for food and decoration," he said.
"The amount of shells is quite large," he continued. "They have the top broken and there is a large amount of pots around. We concluded that the shells were discarded by humans after the snails inside were eaten."
Examination of bones found at the site revealed them to be 3,400 years old.
"Most of them were fishermen, living off snails, fish, crabs and clams," Zhu said. "They also grew rice, raised cattle and pigs, and hunted birds, deer and elephant. They lived in square houses in the summer and semi-subterranean dwellings in winter."
Excavation of the site is almost complete.