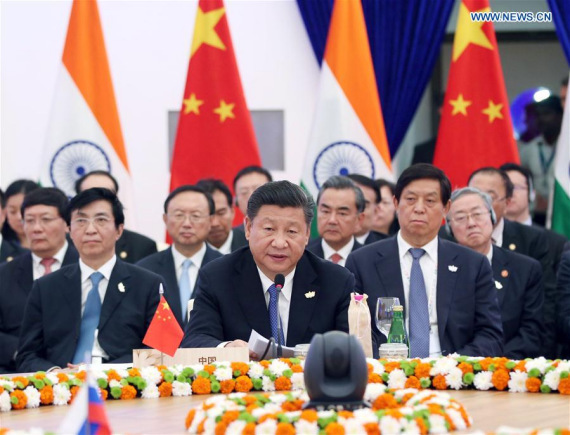 Chinese President Xi Jinping speaks at the eighth BRICS (Brazil, Russia, India, China and South Africa) summit in the western Indian state of Goa, Oct. 16, 2016. (Photo: Xinhua/Yao Dawei)
China has always pursued a friendly and mutually beneficial relationship with its neighboring countries, which was recently witnessed by Chinese President Xi Jinping's South and Southeast Asia visits.
A week ago, Xi finished state visits to Cambodia and Bangladesh and an attendance at the eighth BRICS summit in India.
Fruitful results have been yielded with the signing of 31 cooperative documents on major projects between China and Cambodia, such as those under the auspices of the Belt and Road Initiative, the alignment of development strategies, production capacity investment, and the construction of the Sihanoukville Special Economic Zone, Chinese Foreign Minister Wang Yi have said.
China-Bangladesh relationship has also been upgraded to a strategic cooperative partnership during Xi's visit, with the signing of more than 30 important cooperative treaties.
The visits have fulfilled the basic tenet of China's diplomacy with neighbors, which is to treat them as friends and partners, to make them feel safe and to help them develop.
The tenet was put forward by Xi at a conference on diplomatic work in Beijing in October 2013.
Friendship, suggested Xi, is a consistent principle of China's diplomacy with its neighbors and sincerity is the way to develop more friends and partners. Cooperation with neighbors should be based on mutual benefit and create a close network of common interests.
During the last three years, about half of Xi's foreign visits concentrated on neighboring countries. From Russia, Mongolia, Kazakhstan, Kyrgyzstan, Tajikistan to India, Pakistan and Vietnam, the Chinese leader set foot on almost all the bordering countries' land.
In Goa, Xi said that China and India should constantly enrich their strategic cooperative partnership and chart the course of bilateral ties in line with the fundamental interests of their peoples.8 As to Moscow, Xi said during a meeting with Russian President Vladimir Putin in Hangzhou on September, that the two countries should deepen pragmatic cooperation in infrastructure, energy, aviation, aerospace and advanced technology. He also called for stronger military and security cooperation.
In Islamabad, the two neighbors lifted their ties to an all-weather strategic cooperative partnership on April, 2015, when Xi paid a state visit to the country.
The trip to the South Asian country, the first leg of Xi's first overseas tour that year, testifies to the importance of the China-Pakistan relationship and marks a significant stroke of Beijing's neighborhood diplomacy and development of a community of common destiny.
The notion of a community of common destiny and common prosperity also have given birth to new mechanisms of China's diplomacy with its neighbors, including the Lancang-Mekong cooperation.
Rising on China's Qinghai-Tibet Plateau, the Lancang -- known as the Mekong when it flows out of China -- meanders almost 5,000 km through China, Myanmar, Laos, Thailand, Cambodia and Vietnam before emptying into the South China Sea.
Under the theme "Shared River, Shared Future," the first Lancang-Mekong Cooperation leaders' meeting was held in March in Sanya City of south China's Hainan Province. The meeting brought forth a number of new cooperative ventures.
During the meeting, China offered concessionary loans of 10 billion yuan (1.54 billion U.S. dollars) and up to 10 billion U.S. dollars in credit lines to fund improvements to infrastructure and connectivity in all six countries
Lancang-Mekong cooperation has already generated some tangible results. A road linking China and Thailand via Laos was completed in 2013; construction of a China-Thailand railway and a China-Laos railway got underway last year; and southwest China's Yunnan Province, which shares borders with Laos, Myanmar and Vietnam, is now linked with over 20 southeast and south Asian cities by air.
Efficient Lancang-Mekong cooperation will improve logistics and economies along the river, benefitting all of Southeast Asia.
As an old Chinese saying goes "A far-off relative is not as helpful as a close neighbor", China's neighborhood diplomacy featuring amity, sincerity, mutual benefit and inclusiveness will not only benefit its neighboring countries, but will also contribute to peace and prosperity of the region and the rest of the world.