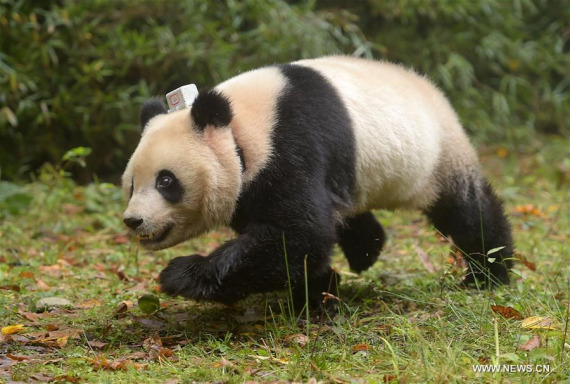 Giant panda Zhang Meng is released into the wild at Liziping Nature Reserve in Ya'an, southwest China's Sichuan Province, Oct. 20, 2016. (Photo: Xinhua/Xue Yubin)
China released another two captive-bred giant pandas into the wild on Thursday in southwest China's Sichuan Province, in an attempt to diversify the species' genetic pool.
Hua Yan and Zhang Meng, both females, were born at the semi-wild training center in Wolong Nature Reserve in August 2013 and July 2014, respectively. They were released into Liziping Nature Reserve Thursday morning.
They are the sixth and seventh giant pandas to have been released to the wild.
Both of them were declared in good shape and ready for release after a thorough physical examination at the China Conservation and Research Center for the Giant Panda (CCRCGP) on Tuesday.
"The two pandas have learned the basic skills needed to survive in the wild, including foraging for food, distinguishing and hiding from predators, and adapting to harsh weather conditions," said Huang Yan, a panda reintroduction specialist
Both have been fitted with ID chips to monitor their physical conditions and GPS collars.
The best time to release pandas is late autumn or early winter, the time when wild young pandas usually leave their mothers.
"Releasing them to the wild is just the beginning. We'll continue to monitor them and see whether they can survive in the wild," said Huang. "We hope they can mate and breed."
China first released a captive-bred panda into the wild in 2006. Xiang Xiang, who was a five-year-old at the time, was released into Wolong National Nature Reserve. However, he died roughly a year later after fighting with other pandas over food and territory.
Giant panda Hua Yan is released into the wild at Liziping Nature Reserve in Ya'an, southwest China's Sichuan Province, Oct. 20, 2016. (Xinhua/Xue Yubin)
In 2012, 2013 and 2014, Tao Tao (male), Zhang Xiang (female) and Xue Xue (female) were released into Liziping reserve. Xue Xue died a month after her release in November 2014.
The last panda to be released was Hua Jiao, a two-year-old female, in November 2015.
"The good news is that Zhang Xiang and Tao Tao are doing well. Zhang Xiang has even established her own territory, and is expected to mate naturally with other wild pandas," said Zhang Hemin, director of CCRCGP.
"The success rate of giant panda's reintroduction is about 60 percent, while the rate for other animals in the world is only around 10 percent," said Huang.
According to Zhang, 17 pandas have participated in wilderness training since they started the reintroduction program in 2003. Five were deemed unfit for reintroduction and put back to captivity, while the rest continue with their training. One or two pandas will be released every year.
Giant pandas are one of the world's most endangered species. Fewer than 2,000 pandas live in the wild, mostly in the provinces of Sichuan and Shaanxi. There were 375 giant pandas in captivity at the end of 2013, about 200 of them at CCRCGP.