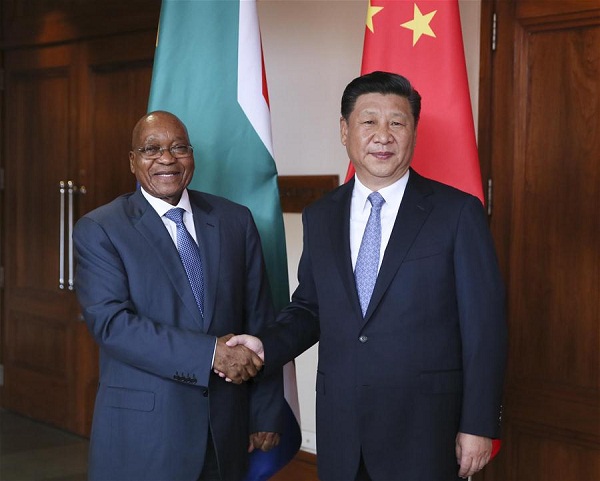 Chinese President Xi Jinping meets with South African President Jacob Zuma in the western Indian state of Goa, Oct. 15, 2016. (Xinhua/Lan Hongguang)
China and South Africa on Saturday vowed to boost bilateral cooperation within the framework of the BRICS mechanism and the Forum on China-Africa Cooperation (FOCAC).[Special coverage]
The pledge came out of a meeting between Chinese President Xi Jinping and his South African counterpart, Jacob Zuma, on the sidelines of the eighth BRICS summit in the western Indian state of Goa.
Leaders of Brazil, Russia, India, China and South Africa are expected to discuss BRICS cooperation and other issues of common concern at the Oct. 15-16 summit themed "Building Responsive, Inclusive and Collective Solutions."
During the meeting, Xi praised the sound development momentum of bilateral comprehensive strategic partnership, saying China is ready to work with South Africa to push for concrete outcomes in mutually beneficial cooperation, so as to benefit people of the two countries.
The two sides should maintain high-level exchanges and deepen communication and cooperation between political parties, legislative bodies, armed forces and security sectors, said Xi.
He called for experience sharing on state governance as well as mutual understanding and support between the two sides on issues concerning each other's core interests and major concerns.
On friendly and win-win cooperation, the Chinese president suggested the two sides make substantial progress on existing cooperative projects, including a railway corridor, a science and technology park, vocational training and local cooperation.
Xi called on the two sides to maintain close collaboration in international affairs and make concerted efforts to push forward the stable development of BRICS cooperation, so as to make greater contribution to world peace, stability and prosperity.
China supports South Africa in playing a bigger role in international and regional affairs, he noted.
Xi said China is firm in supporting African nations' pursuit of development paths that suit their own national conditions and free themselves of external interference and control.
China is willing to work with African nations including South Africa to earnestly implement the consensus reached during the Johannesburg Summit of the FOCAC held last December, in a bid to promote win-win cooperation and common development, he added.
The five BRICS leaders just met last month in the eastern Chinese city of Hangzhou when China hosted the 11th summit of the Group of 20 (G20) major economies.
Zuma said South Africa highly appreciates the achievements of the Hangzhou Summit, especially the great attention paid to the development issues as well as the cooperation between the G20 and developing countries.
South Africa is committed to deepening its relations with China, he said, voicing appreciation for China's support to South Africa in such areas as infrastructure construction and personnel training.
He said South Africa is ready to strengthen cooperation with China and Africa-China cooperation within the framework of the outcomes of the Johannesburg Summit.
Xi arrived in Goa on Saturday noon to attend the eighth BRICS summit. India is the final stop of his Southeast Asia and South Asia tour, which has taken him to Cambodia and Bangladesh.