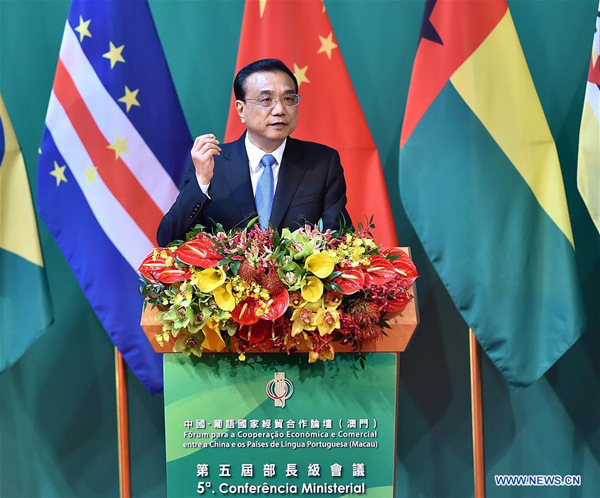 Chinese Premier Li Keqiang delivers a keynote speech at the opening ceremony of the 5th Ministerial Conference of the Forum for Economic and Trade Cooperation between China and Portuguese-speaking countries, in Macao, south China, Oct. 11, 2016. (Xinhua/Li Tao)
The Fifth Ministerial Conference of the Forum for Economic and Trade Cooperation between China and Portuguese-speaking Countries kicked off in Macao on Tuesday. [Special coverage]
The theme of the two-day conference is "Moving towards a Stronger China-Portugal Trade and Economic Relationship: Jointly Discussing Cooperation, Constructing Platform and Sharing Development."
Addressing the opening ceremony, Chinese Premier Li Keqiang said China is willing to build more substantial economic and trade ties and develop long-term stable and sound partnership with Portuguese-speaking countries (PSCs).
He said China and the PSCs account for 17 percent of the global economy and 22 percent of the world population, and their common interests and need of mutual support are increasing.
Li also announced 18 new measures to enhance cooperation in production capacity, development, culture and marine areas, including offering aid and preferential loans worth 4 billion yuan (about 600 million U.S. dollars) to the PSCs in Asia and Africa in the next three years.
Inaugurated in 2003, the forum is sponsored by the Ministry of Commerce of China, hosted by Macao Special Administrative Region government and with the joint participation of seven Portuguese-speaking countries: Angola, Brazil, Cape Verde, Guinea Bissau, Mozambique, Portugal and East Timor.
Representatives including four prime ministers and three ministers of different industries from the participating countries also gave speech at the opening ceremony.
During the forum, Action Plans for Economic and Commercial Cooperation (2017-2019) will be signed to lay out the key areas and directions of the economic and trade cooperation between China and the PSCs.
An Entrepreneurs and Financiers Meeting will be held on Wednesday to discuss the investment opportunities for businessmen from China and the PSCs, mainly in innovative financial services and production capacity areas.