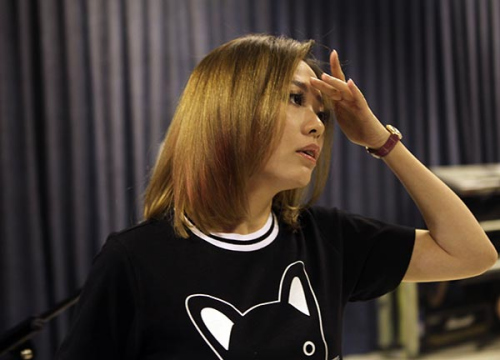 Singer Zhang Liangying (Zou Hong/For China Daily)
Two days after Chinese pop singer Zhang Liangying announced her marriage, a lawsuit was filed in Chaoyang District People's Court in Beijing in which Zhang's mother claimed that her share of an entertainment promotion company was improperly altered.
On Saturday, Chinese media reports said that Zhang, also known as Jane Zhang, said she would marry Feng Ke, CEO of the promotion company, Show City Times, in Italy in November. But on Sunday, Zhang Guiying, the star's mother, became the focus. She said she disapproves of the marriage and is taking Feng to court because she had been removed as a shareholder in the company.
Information about the dispute swept the internet over the weekend.
An officer in the court's publicity department, who asked not to be named, confirmed the case filing on Monday.
"We've accepted the mother's complaint, and related work is being carried out," the officer said, declining to release more details.
The Mirror, or Legal Evening News, reported on Monday that the mother submitted her complaint along with her lawyer on Sept 30, claiming that Feng had altered the ownership of the company.
The indictment said that the registered capital of Show City Times was 6.6 million yuan ($985,000), and that the individual shareholders were Zhang Liangying, Feng Ke and the mother, Zhang Guiying, according to the news report.
From April 2012 to September 2013, 70 percent of the shares belonged to Zhang Liangying, and 20 percent belonged to her mother, the report said, adding that Feng had only 10 percent when the company was founded.
In 2014, however, the shares owned by the mother and Zhang Liangying were lowered respectively to 5 percent and 35 percent, while registered capital increased to 10 million yuan, the complaint said. Then the mother found this year that she had been removed altogether as a shareholder, the complaint alleges.
"I request the court to confirm that the reduction of my shares and my removal by Feng are illegal, and to reinstate my shareholder's qualification," the newspaper quoted the mother as saying in the complaint to the court.
Zhang Liangying shot to fame by winning third place in the 2005 season of the Super Girl contest, a reality TV show.
In July last year, she made her 12-year relationship with Feng public at a concert in Changsha, Hunan province. Feng proposed marriage when Zhang announced at the concert: "If you want to marry me, please come onstage."