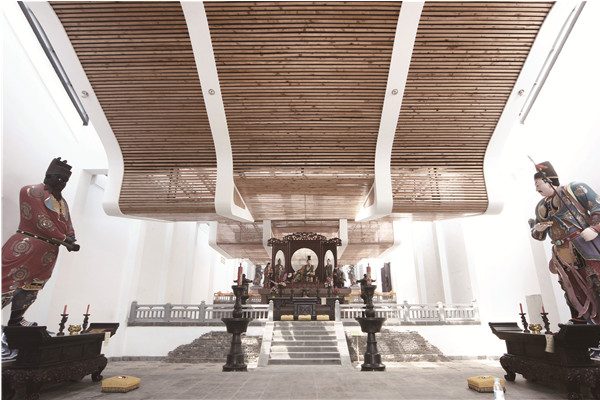 The main hall of the new Deyouguan Temple on Maoshan Mountain, Jiangsu province. Architect Tao Jin borrowed ideas from the old temple to build the new structure. (Photo provided to China Daily)
Designing a temple is different from coming up with a plan for a residential complex in that you have to also imagine that God is living there, said Tao Jin, a Beijing-based architect.
Tao, 33, is with the Architectural Design and Research Institute of Tsinghua University in Beijing. He has specialized in the designing of religious buildings after his first project - the Taoist Deyouguan Temple on Maoshan Mountain, Jiangsu province - turned out to be a huge success.
He also won an award from the German magazine Bauwelt for the new design of the temple. The original temple, built during the Yuan Dynasty (1271-1368), was destroyed by the invading Japanese troops during the 1937-1945 war.
Tao, a converted Taoist, said the design of religious buildings in the East and the West, and across different religions is essentially the same.
"The metaphor is that the God is living there, and you have to show your theological considerations through the design of form, space and ambience," he said.