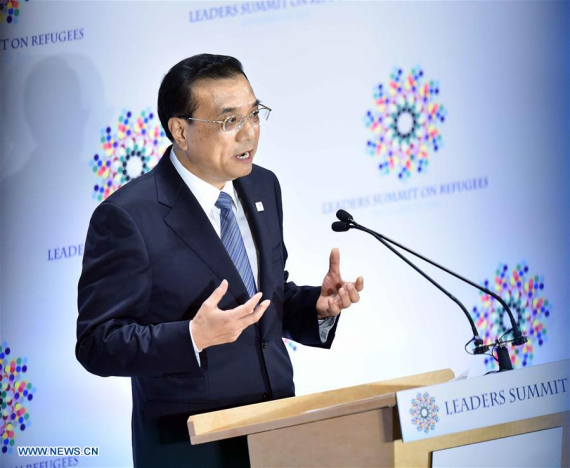 Chinese Premier Li Keqiang addresses the Leaders Summit on Refugees at the United Nations headquarters in New York Sept. 20, 2016. (Photo: Xinhua/Li Tao)
Chinese Premier Li Keqiang is set to land in Beijing on Wednesday after a fruitful foreign trip, during which he attended the 71st session of the United Nations (UN) General Assembly and paid official visits to Canada and Cuba.[Special coverage]
The trip marked several "firsts," namely Li's first appearance at the UN General Assembly, the first held annual dialogue between a Chinese premier and a Canadian prime minister, and the first official visit to Cuba by a Chinese premier in 56 years since the two countries established diplomatic ties.
Li presented Chinese solutions to various global challenges and bolstered ties with both Canada and Cuba, experts observed.
HIGHLIGHTS OF KEY RESULTS, PROPOSALS AT UN HEADQUARTERS
The Chinese premier concluded his visit to the UN headquarters, which included attending the UN General Assembly, and conferences on refugees, immigration and on sustainable development.
His New York tour also displayed China's outlook for China-U.S. relations while assuring the world of China's determination to maintain steady economic growth and seek greater integration with the global economy.
During his UN meetings, Li pledged hundreds of millions of dollars in aid to help solve the most pressing challenges facing the world from refugee and migration issues to the fight against AIDS, Tuberculosis and Malaria.
On the sidelines of the conferences, Li met with UN Secretary-General Ban Ki-moon and held talks with leaders of the United States, France, New Zealand and Pakistan.
The topics of the talks ranged from the issue of development and climate change, to the situation on the Korean Peninsula, China's continuous support for the United Nations, its Charter, and its role in international affairs and safeguarding world peace and development. The global economic recovery and China's engagement with other countries through the Belt and Road Initiative were also discussed.
Meanwhile, the Chinese premier interacted with American business circles, prominent personalities and media, including former U.S. Secretary of State Henry Kissinger, former U.S. Treasury Secretary Henry Paulson, and former New York City Mayor Michael Bloomberg.