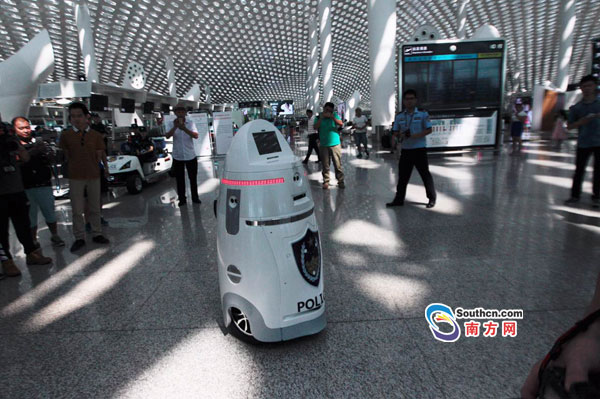 The first security robot works at Shenzhen airport on September 21, 2016. (Photo/southcn.com)
The first security robot joined staff at Shenzhen airport on Wednesday.
The use of intelligent security robots will ease pressure on airport police in their daily patrols and save human resources, said an official with the Shenzhen Public Security Bureau.
"AnBot", or "Shenzhen Xiaoan" in Chinese, can work around-the-clock and react to emergencies with an electric riot fork. The intelligent guard is 1.5 meters tall and weighs about 75 kg.
With four digital cameras, the security robot is capable of autonomous patrols, intelligent monitoring and auto recharging.
It can answer passengers' questions about flight information and communicate with people in different contexts, said the official.
In case of emergencies, AnBot can deter suspects with sound and light, and use tools like the electric riot fork to prevent crime.
AnBot was developed by Shenzhen Public Security Bureau, the National University of Defense Technology and a domestic technology company.
Besides a booming industrial robot sector in China, robots have been increasingly used in the service sectors such as senior care and domestic cleaning.