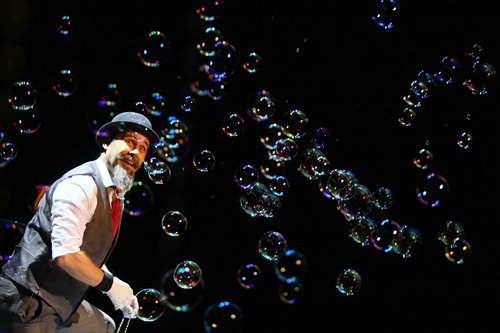 A comedian performs during a magic bubble show. (Photos: Yang Hui/GT)
About 50 famous comedians from roughly 20 countries are romping around the city for the Shanghai Tourism Festival, which kicked off September 10 and runs through October 6.
Officially the Shanghai AEMI International Comedy Festival, now in its 2nd edition, the carnival features prestigious comedians, including Americans Gregory DeSanto and Michael Saab; France's Bidou; and Michael Menes, an international touring artist specializing in physical theater and comedy, among others.
The clowns are scheduled to present 28 programs to be performed around the city in a total of 260 performances in theaters, squares, parks, residential buildings as well as city landmark buildings.
The programs range from a magic bubble show to mime, improv comedy, puppet shows, magic, dancing on stilts, and hilarious physical theater, catering to viewers of all ages.
Recent performances since the festival started earlier this month include a classic show of clown masters at the Shanghai Poly Grand Theatre in Jiading district, and a Mid-Autumn Festival celebration at Jiading's Shanghai Auto Expo Park with comic arts aimed at children.
Since Sunday, the festival has been in central Jing'an district, presenting a series of interactive shows at Jing'an Park, Jing'an Sculpture Park, Life Hub @ Daning and five district communities.
On September 28 and 29, these comedians will be seen at the Nanxiang Steamed Dumplings Festival in Jiading district, taking in local delicacies while bringing delight to tourists from both home and abroad.