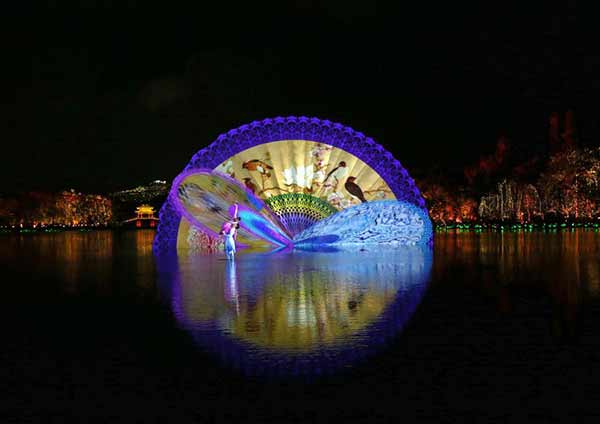 Dancers perform at the G20 evening gala. (Photo/Xinhua)
Hangzhou is witnessing a boom in interest after the G20 Summit ended on Sept 5 as visitors throng to popular spots.
Qyuyuanfenghe Park, the location where the G20 evening gala was held, has become one of the most popular attractions in Hangzhou.
The show, produced by a team led by famous director Zhang Yimou, is staged with the majestic West Lake as its background. It's based on Zhang's "Impression of West Lake" show, an astonishing performance that takes place right on the surface of the water, combining music, dance, and light effects all against a natural backdrop.
On Sept 7, the park was packed since the morning as both locals and visitors were eager to see the scenic spot in real life.
"I've seen the videos of the show many times. But only when I came here to feel the vibe in real time that I'm satisfied," said Liu Ying, a tourist with her daughter from Guizhou province.
The G20 sign on the lake is also a background hit for people to pose in front of it for photos.
A local resident surnamed Huang said: "It's the sign that was shown during the evening gala at the climax of the show. I was very excited when I saw it on TV!"
She took many photos of the sign.
Also, gold coins and silk scarves commemorating the G20 were launched in the market on Sept 9.
The coins come in five different weights and prices, with one side displaying the G20 logo and the other side the famous attractions in Hangzhou.
The scarf is decorated with Chinese traditional elaborate-style paintings with wishes of prosperity in all countries created on them.
The launch of coins and scarves follow the launch of G20 postcards and scarf kit in August.