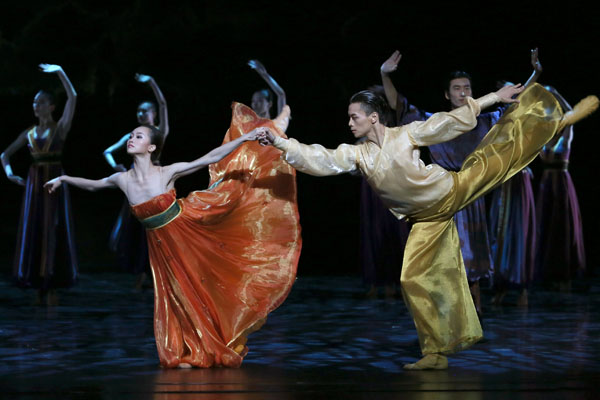 Echoes of Eternity. (Photo by Chen Lunxun-Courtesy of Shanghai Ballet)
Chinese art performances are fast becoming a mainstay of the London entertainment scene, as various companies bring the best of Chinese culture to an international audience.
The latest performances to receive the UK critics' acclaim include Shanghai Opera's 'Thunderstorm' and Shanghai Ballet Company's 'Echoes of Eternity' at London Coliseum in August.
Later this year at the Sadler's Wells venue will host the National Ballet of China's dance 'The Peony Pavilion', and famous Chinese dancer Yang Liping's dance 'Under Siege', following the tremendous success by of 'Farewell My Concubine' by China National Peking Opera last year.
What is different from previous years, when Chinese performances were aimed very much at a Chinese audience, nowadays increasingly Chinese performances are viewed by Western audiences and are regularly reviewed by some of more serious English newspapers.
Patrick de Bana, choreographer for 'Echoes of Eternity', said he believes the London audience were surprised by the dance.
"I think many people are shocked, they may have expected some martial art actions characteristic of some Chinese dancing in their mind, but I'm not giving them that, because dancing in China is much more diverse," he said.
Based on Bai Juyi's poem `The Song of Everlasting Regret, ' about the loving relationship between the 8th century Chinese Emperor Li and his concubine Lady Yang, 'Echoes of Eternity' is modernized into a distinctively recognizable ballet form, although the movements carry a subtle hint of Chinese aesthetics.
Such aesthetics are recognizable in the martial art movement of movies by directors like Zhang Yimou, whom the German-born choreographer De Bana looked towards as a key source of inspiration in his choreographing process.
Despite the very traditional Chinese costumes and the stage setting with big pillars to resemble the historical Chinese palace, all these aesthetic element are altered to adapt to a Western audience. This is hardly surprising considering the high level of internationalization of Shanghai Ballet Company, with set designer Jaya Ibrahim from Indonesia, and costume designer Agnes Letestu from France.
For De Bana, crucial to translating the Chinese story to dance for a world stage is recognizing love's universality. "Just like Romeo and Juliet is a story performed now by all countries and doesn't necessarily belong to any one country, I think 'Echoes of Eternity' is also universal."
Similarly, Thunderstorm is a play by the 20th century Chinese playwright Cao Yu, subsequently turned into a western opera, which is a performance medium traditionally foreign to China, and extra attention is taken by Shanghai Opera to ensure a Western audience can understand the story's emotional climax through the singing despite their inability to comprehend Chinese.
For example, writing in The Times, Rebecca Franks said of Thunderstorm, that "Every plot twist of Mo Fan's 2001 opera felt as if it came with an exclamation mark." And Richard Fairman wrote in the Financial Times, that "In short, what Thunderstorm offers is a Puccini-like opera, singable and highly dramatic, but couched in a musical language with a distinctive Chinese accent."
Xin Lili, director of Shanghai Ballet, said the showcasing of Chinese performances internationally both help to share valuable Chinese aesthetics with a global audience and help young and promising Chinese performers to build their reputation and experiences internationally.
"I think generally Chinese performers are very keen to learn and work very hard. Our performance companies tend to produce a larger number of works, as the amount of time we need to rehearse new performances are also shorter," said Xin.