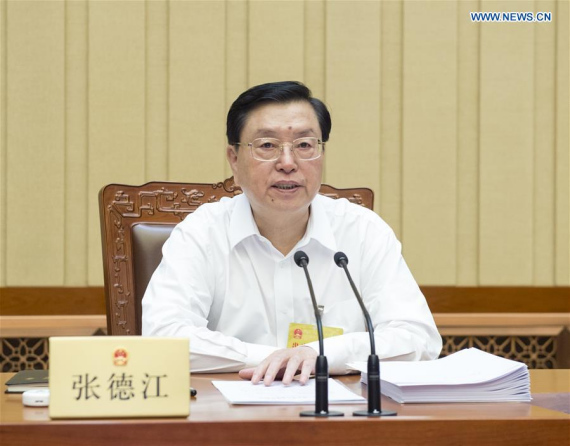 Zhang Dejiang, chairman of the Standing Committee of China's National People's Congress (NPC), presides over the 1st plenary meeting of the 22nd session of the 12th NPC Standing Committee in Beijing, capital of China, Aug. 29, 2016. (Photo: Xinhua/Wang Ye)
The Standing Committee of the National People's Congress (NPC), the top legislature, on Monday started its bimonthly session, with lawmakers discussing revisions to the draft laws on national defense transport and film, among others.
Zhang Dejiang, chairman of the NPC Standing Committee, presided over the opening meeting of the session, which runs from Monday through Saturday.
The draft law on national defense transport, which was deliberated for the second time on Monday, was ready to be submitted to China's top legislature for approval.
The new law, covering the use of railways, waterways and air routes for defense purposes, is expected to regulate the planning, construction, management and use of resources in transportation sectors, such as railways, roads, waterways, aviation, pipelines and mail services, for national defense.
Lawmakers also reviewed a draft film law with a key focus on making sure that people working in the film industry maintain professional ethics.
The draft stresses that film distribution companies and cinemas should not fabricate movie ticket sales or engage in "improper methods," and cancels the need for government approvals on film shoots.
The top legislature is mulling plea bargains in criminal cases, as part of measures to find balance in criminal justice decisions.
The bimonthly legislative session considered proposals allowing suspects and defendants to plead guilty in return for a lesser charge.
The central government submitted a draft environment tax law to the top legislature for its first reading, one step closer to a national taxation on various pollutants from business activities.
Lawmakers also began their first reading of a draft amendment to four laws regarding foreign and Taiwan investment, following successful trials in several free trade zones.
In addition, they also reviewed a draft amendment to the Marine Environment Protection Law, imposing more severe penalties for pollution.
A revised draft law on Traditional Chinese Medicine (TCM) was submitted to the top legislature, under which pharmaceutical companies and TCM dealers must keep records of their purchases.
Legislators began to read a proposal to review and ratify the Paris Agreement on climate change.
They will later review those drafts in a group discussion, and will listen to reports on economic and social development, budget implementation, reform and development of higher learning, among others.