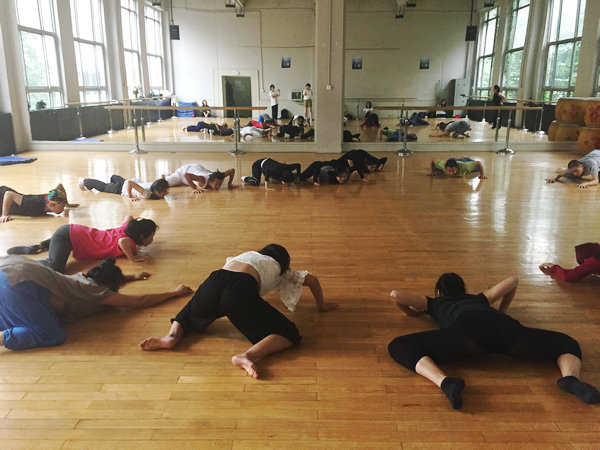 Students imitate lizards at Lin's class, Beijing, Aug 18, 2016.(Photo by Li Hongrui/chinadaily.com)
"I feel so comfortable after this dance," a student exclaimed, beaming.
She was one of several students who lay on the floor, barefoot, wiggling and creeping in order to imitate snakes.
This is not an art show, but a dance, created by Lin Xiuwei, who had been the lead dancer for 10 years at Cloud Gate Dance Theatre, a modern dance group based in Taiwan, which was established by Lin Hwai-min in 1973.
After leaving Cloud Gate, Lin created her own dance, a dance of body, soul and mind.
The dance, a very natural expression of body movements, aims to let people relax their body and mind through connecting with nature, such as wind, water, flowers and animals.
"Before dancing, I teach students to find their own spine. Do you know where your spine is?" she smiled.
I suppose not.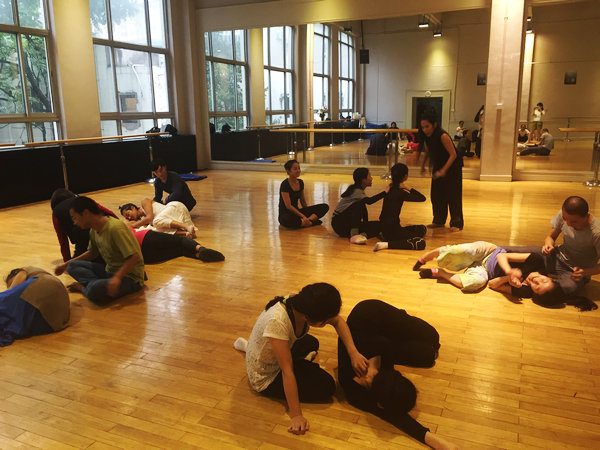 Students help each other to feel their spines at Lin's class, Beijing, Aug 18, 2016. (Photo by Li Hongrui/chinadaily.com)
According to Lin, the dance that imitates animals requires people to use their spines expressively. And they must know the location of the spine in their own body in order to feel its existence and use it in the dance.
The students were paired up and helped each other to feel their spines by slowly massaging and touching them.
Then with the background music of the sounds of frogs and insects, students began to move their bodies slowly. Some of them are professional dancers, who can twist and turn their bodies flexibly, like a snake. Others can only stretch and bend as far as they can. Yet they all moved with eyes closed and wore an expression of satisfaction on their faces. There are no requirements for them to dance in a certain way. They all just follow their mind, feelings and imagination.
After mimicing snakes, they move on to imitating lizards.
As a lizard, Lin asked them to concentrate the forces on their spines, and be powerful. The students crouched, arched their backs, and lifted one leg in the air to keep their balance. This time, most of them laughed merrily when they scuffled as lizards did. It is not so much a dance as a fight between our animal ancestors buried in our genes passed down from those that faced the savage world.
"I want this kind of imitation of animals to wake up the buried force in people's bodies, a force so strong that you use it to survive in nature," Lin said.
A modern life of ease makes people physically soft and vulnerable. Lin wants to use her creative dance to let people regain their natural power.
"I have never had such a wonderful experience," said a female student, who is not a professional dancer.
"When you learn other dances, there are a lot of rules you must follow. But this dance only asks you to move your body with your mind. I feel very relaxed."