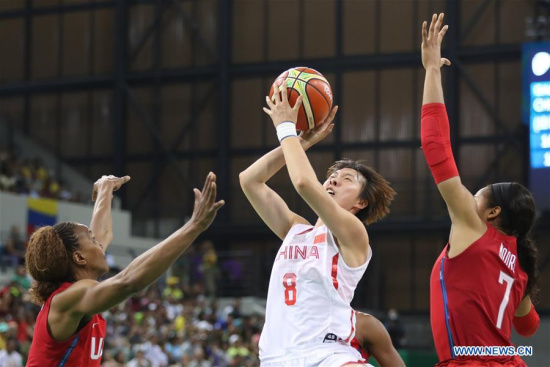 China's Wu Di (C) shoots the ball during a women's preliminary round group B match of Basketball between China and the United States of America at the 2016 Rio Olympic Games in Rio de Janeiro, Brazil, on Aug. 14, 2016. China lost 62-105. (Xinhua/Xu Zijian)
Just as expected, Chinese women basketballers didn't see the opportunity for even one minute against top-ranked USA.
The Chinese team lost to Olympic and World Championships defending champion 105-62 in their last group match here on Sunday, also their head coach Thomas Maher's finale as his contract with the team is due after Rio Olympics.
Maher showed willingness to extend his contract after the match. "Absoutely. China is a great place," he said.
Sun Mengran finished with a team-high 16 points for China. Captain Lu Wen added 14.
"We lack physical play and transition when we face USA. They did much better than us in ball possession and offensive efficiency," commented starting point guard Chen Xiaojia.
The world No. 1 just took on an one-quarter span to seal the victory. Tina Charles and Brittney Griner had their first 12 points after the tip-off, while China just nailed a three-pointer by Chen Xiaojia in a seven-minute span, before Shao Ting ended the scoring draught with a layup.
However, the USA team dominated throughout the match with their speed, aigility and teamwork as they led by 23 points after the first quarter. With a 30-plus advantage in hand, they were never challenged in the next three periods.
Nine of 12 Chinese players didn't have any Olympic experience before. For this young squad, experience in such a high level competition is undoubtedly what they treasured the most in Rio.
"We didn't play to our expectation, but this young team played pretty good in some moments," said veteran center Chen Nan.
"It's a pity that we lost the chance for not taking care of the ball against Spain and Serbia. Learing some lessons to be better in the future, that's the most important for these young players," she added.
Looking back the past three and a half years, Chinese players could feel the change that Maher has brought to this team.
"Team play is what he emphasized the most. Moreover, he told us to never give up and try our best. Everybody can learn a lot from his tactics," said Chen.
"He can find our problems, and help us improve little by little, especially on defense and rebounding. We have a lot to improve in the future," said Shao.
From final loss in last year's Asian Championship to the Rio Olympic Games, Maher could clearly feel the progress of this team.
"I'm very happy that we qualified. That was a hard path. After our loss in Asian Championship. The pressure became quite immense for us to qualify, we all felt that. We did a good job just to be here. Absolutely, we are a much better team," he said.
USA finished the group phase with a 5-0 record. Four players had double-digit points, led by Charles and Griner' 18 apiece.