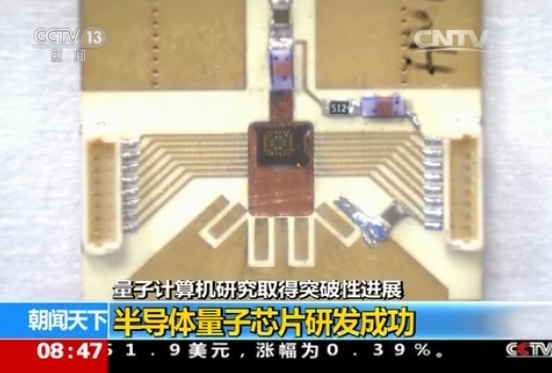 China has made a breakthrough in the research of quantum computing. The quantum laboratory of the University of Science and Technology of China recently announced its success in developing a semiconductor quantum chip.
According to a CNTV report on Aug. 11, the quantum chip is equivalent to the "brain" of future quantum computers; it enables quantum operations and information processing. Besides computing, technologies for quantum storage and control are also essential to the future of this technology. The "sandwich-type" solid-state quantum memory can be operational at a low temperature with magnetic auxiliary equipment.
Zhou Zongquan, a researcher at the Key Laboratory of Quantum Information under the Chinese Academy of Sciences (CAS), said that the direction of future development is to prolong the life of quantum memory.
"Ultimately we hope to fit it into a classic, portable USB in order to achieve the long-distance transmission of quantum information," Zhou said.
Quantum computers are expected to overtake existing computers in both speed and performance. The quantum chip is the core element that distinguishes a quantum computer from an ordinary one. At present, many foreign research institutions have begun research in this field, and China remains at the forefront.
According to Guo Guangcan, an academician with CAS, quantum computers constitute disruptive technology. Once the technology is successfully developed, it will be able to crack passwords and solve various problems related to big data. Currently, quantum technology is still in the experimental stage. There is a long way to go before commercialization.