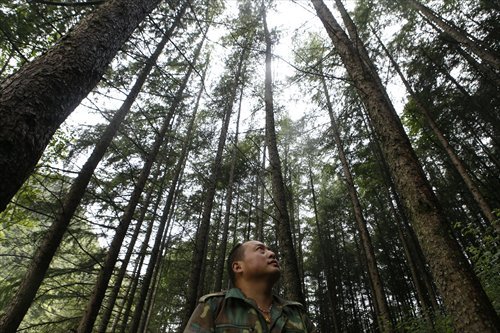 Wan Yong, a ranger for the Shennongjia Forestry District (Photo: Li Hao/GT)
In Muyu township, a traffic junction for the Shennongjia Forestry District in Hubei Province, it's actually quite difficult to find someone who is actually from here.
Retailers, hotel owners, tourists and the elderly from neighboring cities gather in this town to kick off the peak tourism season every summer. Most of them come for the same reason, the region's natural scenery.
"This is the first choice for me in Hubei Province. I love the feeling of an untouched ecosystem that I get here. It's a perfect fit for my current life attitude," Wei Wei, a fashion designer on vacation in Shennongjia, told the Global Times.
During the 40th World Heritage Convention held in Istanbul last month, Shennongjia was listed on the world heritage list, thus becoming the first heritage site in China to be protected by three organizations (UNESCO, the Man and Biosphere program and the Global Geopark Network).
The UNESCO committee stated that Shennongjia's species diversity, zonal vegetation type, natural vertical zone and ecological and biological processes rank it as one of the most unique regions in the world.
Shennongjia used to be a rather closed off region. People living here had to rely on the natural resources found in the mountains to get by. Now, with the development of tourism, restaurants, travel agencies and specialties stores have sprung up on the town's main street, providing locals with a means to a better life.
"They rent their farmhouses out to those from other places and then go to other places to make their living with jobs that don't involve as much hard-labor," Wang Zhixian, director of the Shennongjia Nature Reserve Management Bureau, told the Global Times.
Tight controls
China is the proud owner of 50 world heritage sites, ranking second in the world. However, it does not share the same reputation when it comes to environmental protection. While some sites, such as the Pingyao Ancient City in Shanxi Province, have benefited from becoming world heritage sites, in recent years they have started to face a common problem: the overexploitation of resources for tourism purposes.
The Operational Guidelines for the Implementation of the World Heritage Convention points out that the exploitation of heritage sites must guarantee sustainability and not negatively impact a site's value, integrity or authenticity.
Although Shennongjia's world heritage listing has boosted tourism, Wang asserted that they have implemented measures to prevent overexploitation.
"First, only 3 percent of the forest area is open to tourists. We clearly outlined this during our application process and will not expand this area in the future," Wang said.
The management divides the forest areas into three parts: core, buffer and pilot areas. Most of the core areas are off-limits to the public, while buffer areas are generally used for scientific research. Pilot areas, which are limited to 100 meters on either side of roads, are for tourists.
"Second, we have strict regulations for public areas. For example, tourists must ride in our eco-cars when inside scenic regions," Wang said.
Since scenic spots tend to be far away from each other, most tourists take self-driving tours. Stations have been set up near core scenic areas, where tourists must drop off their own cars and take the provided eco-cars.
According to Wang, tourists must follow a specific travel route and return by a specified time. To better protect the area, the management office also keeps close track of the number of tourists coming to the forestry district.
"Our maximum intake capacity is 1.2 million a year. Last year, we received 500,000 tourists. That number should increase to 700,000 this year," Wang explained.
Since the number of tourists coming to the area keeps increasing, Wang plans to introduce online ticket reservations to limit the number of tourists to 10,000 per day during peak seasons.
Near destruction
In addition to restrictions, strict supervision is another important part of forest protection.
Before 2014, patrol teams were the main way the district prevented illegal tree cutting and the theft of wildlife and medicinal plants. However, over the past two years, the district has been constructing a digital surveillance net to keep track of things.
Deng Guoqiang, the senior engineer in charge of forest protection, told the Global Times that they keep a close eye on forest resources, geological resources, tourism resources and public security.
"Every ranger is equipped with digital devices and take turns patrolling the mountains," Deng said.
While much is being done to preserve the forest today, that was not always the case. Back in the 1960s, Shennongjia came close to destruction as locals made a living cutting lumber, farming and hunting.
Seeing the threat that loomed, a scholar named Wu Qiong wrote a letter to then Chinese leader Deng Xiaoping, warning that Shennongjia would disappear from the face of the Earth if things continued.
His warning was successful. The Hubei government set up a natural conservation area in 1982, placing a quarter of the forest under protection. However, old habits die hard. In 2000, entire forest was under protection.
Deng recalled a time when he was head of a conservation station.
"Including me, there were only three staff members in the station and I later employed three additional farmers. We stayed in the mountains all the time to keep watch over nearly five acres," Deng said.
Lumber was a big earner for locals at the time. For example, Deng earned 160 yuan ($24) a month back then, but a single tree could sell for 180 yuan in nearby Chongqing.
Things got better after 1997 when the area began developing its tourist economy, which provided more and better paying jobs. From 2000, Deng began receiving more funding, which enabled him to hire more rangers.
Now as a World Heritage site, he expects that the increased attention this should bring will help tourists think more about protecting the environment themselves.