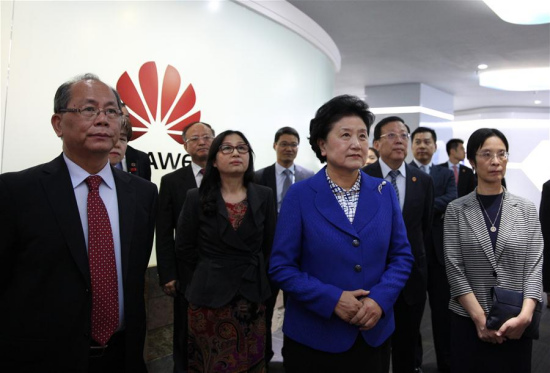 Chinese Vice Premier Liu Yandong (C, front) visits the Latin America headquarters of Chinese telecoms giant Huawei in Mexico City, Mexico, on Aug. 8, 2016. (Xinhua/David de la Paz)
Chinese Vice Premier Liu Yandong on Monday urged Chinese telecoms giant Huawei to continue making contribution to the implementation of China's innovation-driven development strategy.
Liu made the remarks while visiting the Latin America headquarters of Huawei, which is located in Mexico City.
Huawei, as a private enterprise, has established a successful path of "going global" and building an international brand through technological innovation and constantly enhancing its core competitiveness, said Liu.
President Xi Jinping told a national conference on science and technology in May that China must stick to the road of independent innovation with Chinese characteristics in a bid to realize the Chinese dream of the great rejuvenation of the Chinese nation and achieve the country's Two Centennial Goals -- to build a moderately prosperous society in all respects by 2020, and build a socialist modernized country by the middle of the 21th century, Liu noted.
Liu expressed her hope that Huawei could continue to undertake its historical and social responsibility, have the courage to meet new challenges and dare to be a pioneer, and play a positive role in deepening China's relations with Mexico and Latin America.