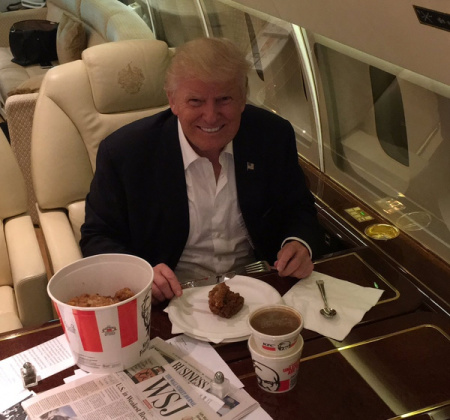 (Photo/Twitter)
Politicians prefer to document what they are eating on social media to attract voters, but sometimes, one culinary misstep may cause reversing effects.
Donald Trump is currently facing such a situation, due to a controversy over eating fried chicken.
The Republican presidential nominee on Monday evening tweeted a picture of himself enjoying a KFC meal with a knife and fork on his private plane.
"Good afternoon in Ohio & a great evening in Pennsylvania -- departing now. See you tomorrow, Virginia," he captioned the snap.
Many made fun of the real estate mogul for eating what is considered to be a common everyman meal on his private jet, chiding the businessman's lack of credibility as a man of the people.
"Eating KFC with a fork and a knife on a private plane. True man of the people," one user tweeted.
But most just couldn't believe that anyone would eat a bucket of fried chicken with a knife and fork.
"Whatever you think about Trump, eating KFC with a knife and fork should disqualify him to be president," one user commented on this tweet.
The tweet has since been retweeted over 14,000 times and liked by 5,500 users.
Actually it isn't the first time for Trump to use food choices to connect with voters.
During this year's primary season, Trump posed for a Cinco de Mayo picture of himself eating a Trump Tower taco bowl, saying that "I love Hispanics."
Jeb Bush, former Florida governor, called Trump's taco bowl tweet "insensitive" and compared it to "eating a watermelon and saying, 'I love African-Americans.'"