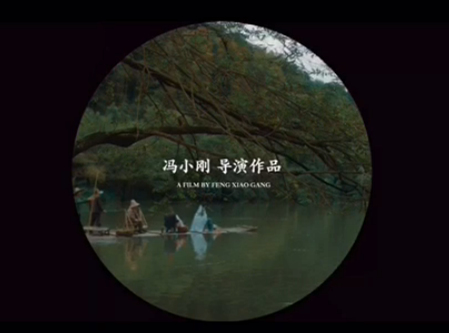 The round-shaped screen imagery of "I Am Not Madame Bovary" by Feng Xiaogang. (Photo/China.org.cn)
Chinese film director Feng Xiaogang's new film "I Am Not Madame Bovary" will be presented on an innovative round screen format.
The round screen, which only show limited round-shaped imagery on a normal rectangle film screen, is so new that "all the creative crew of the film, except the cinematographer, were against my decision, " Feng said at a press conference held in Beijing yesterday.
The leading men of the failed coup included the original novel writer and screen writer Liu Zhenyun, veteran actor Zhang Guoli and film studio Huayi Brothers' boss Wang Zhonglei. Feng said he told them, "If you don't want to invest into my film, I will self-fund it! I will f****** shoot it in round screen."
Feng now explained, "I don't know if the round screen image is good or whether it will be accepted by the audience. But I was terribly afraid I would regret not trying it when I'm older."
Feng's friend Zhang Guoli was also against him using the actress Fan Bingbing for the leading role, as he felt the actress had no connection with the character of the film. But Fan proved him wrong with her total devotion to shaping the character in three months.
"I Am Not Madame Bovary", a rural satire comedy about a woman who tries to change her reputation as a "slut" by suing various officials of different levels, is set for release in China on Sept. 30, 2016. The film will also have its world premiere at the 41st Toronto International Film Festival (TIFF) in September.