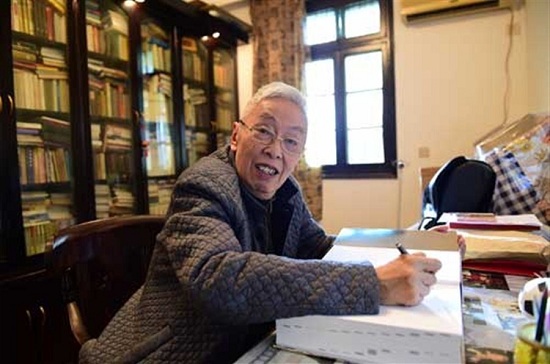 The leading academic Lu Gusun, who died yesterday, works at home last year.(Liu Chang)
The English language and literature professor Lu Gusun, widely regarded as one of China's intellectual heavyweights, died yesterday in Shanghai Xinhua Hospital. He was 76.
He was admitted late last Friday and diagnosed with a cerebral hemorrhage, people close to the Fudan University academic said.
He is survived by his wife and daughter.
Lu was an acclaimed Shakespeare expert and lexicographer who was the editor-in-chief of China's most prominent and comprehensive English-Chinese dictionary in China.
He was also a respected English-Chinese and Chinese-English literary translator and commentator.
The professor was working on the second part of his first Chinese-English dictionary before he became ill.
On the rigors of lexicography, Lu once said: "The process of dictionary compilation is always plagued by the four Ds — namely, delays, deficits, delinquencies and deficiencies. But there is spiritual ecstasy that you can hardly experience elsewhere."
Though it became a labor of love, lexicography was not a career path he voluntarily embarked on.
During the painful days of the "cultural revolution" (1966-76), Lu, accused of being an elitist, was removed from his teaching post and assigned to compile dictionaries.
"Those were the days when the world could not tolerate a peaceful desk for study," said Lu.
Many former students, some of whom graduated decades ago, visited him in hospital over the last few days of his life.
"Professor Lu changed my life," said Zhang Nan, who now teaches English literature at Fudan University. Zhang studied economics when she was an undergraduate, but then shifted to English literature after being inspired by Lu's lectures.
The beloved professor finally retired from teaching two years ago.
"I hope colleges can be a wonderland, not a wasteland for young people. They should have their minds sharpened and their lives enriched here," he said in an interview with Shanghai Daily in 2007.
"Some colleges now make training leaders their main target. But this goal can deprive students of many pure pleasures and undermine their enthusiasm for academic achievements."
Lu said that he hoped to become "an old friend of young people."
He was.
Qu Weiguo, dean of the School of Foreign Languages and Literature at Fudan, said Lu loved to communicate with students, which kept him young at heart.
"Students loved to chat with him. His nickname was Old Ginger," he recalled.
Zhu Jisong, a lecturer in the department and a former student of Lu's, wrote of his tremendous respect for the professor on his social network account.
"In the next life I hope he'll still be my teacher because he was like another father to me in this one," he wrote.
Sun Jian, director of the Department of English Language and Literature, School of Foreign Languages and Literature at Fudan, said many students are acquainted with Lu's advice to young people: "Learn foreign languages but be Chinese."
He said: "This is the treasure he left to all of us."
Lu was born in Yuyao, Zhejiang Province, and spent his entire academic career at Fudan University, where he majored in English language and literature as a student.
Lu was interviewed many times by Shanghai Daily reporters, commenting on various issues related to literature and English studies. He also gave a lecture to Shanghai Daily staff a few years ago, encouraging reporters to further improve their English skills and write better stories for readers.