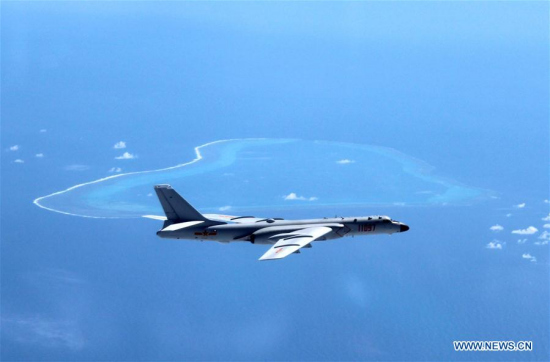 Undated photo shows a Chinese H-6K bomber patrolling islands and reefs including Huangyan Dao in the South China Sea. The People's Liberation Army (PLA) Air Force conducted a combat air patrol in the South China Sea recently, which will become a "regular" practice in the future, said a military spokesperson on July 18, 2016. (Xinhua/Liu Rui)
China on Wednesday urged Japan, the United States and Australia to view and deal with the South China Sea issue in a right attitude.
None of the three nations are directly-concerned parties to the issue, said Foreign Ministry spokesperson Lu Kang in response to question on a trilateral statement issued by the three countries on Monday evening, which touched upon the South China Sea situation.
Lu said China urges relevant countries to respect the efforts of the directly-concerned parties to safeguard peace and stability in the South China Sea, and do right things to serve peace, stability and prosperity in the Asia-Pacific region.
China and members of the Association of Southeast Asian Nations (ASEAN) have already set rules in the Declaration on the Conduct of Parties in the South China Sea (DOC), he said.
During the foreign ministers' meeting between China and ASEAN nations (10+1), China and the ASEAN nations issued a joint statement on full and effective implementation of the DOC, which reiterates that disputes should be resolved peacefully through negotiation between the parties directly concerned, said Lu.
Japan, the U.S. and Australia have been citing international laws for some time, but in fact they have been adopting a double standard towards international laws, which they adopt only when the international laws fit their needs, said the spokesperson.
Lu reaffirmed China's non-acceptance of the illegal and void award issued by the Arbitral Tribunal in the South China Sea arbitration established at the unilateral request of the Philippines.
The award given by the Arbitral Tribuna is beyond the scope of the United Nations Convention on the Law of the Sea (UNCLOS) and has gravely violated the international law and the general practice of international arbitration, and it does not stand for the international law, he said.
China firmly opposes any proposition and action based on the award, Lu stressed.