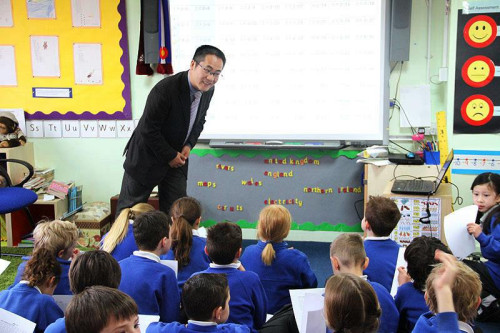 Wang Chengjun, a teacher from Shanghai, gives a class at Wroxham School near London as part of a exchange project between the British Department for Education and the Shanghai Municipal Education Commission in Feburary, 2016. (Photo: CRIENGLISH.com/Duan Xuelian)
The UK government is determined to bring Chinese-style maths teaching to England's primary schools, with £41 million of funding. The policy is aimed to lift the maths skills of British pupils whose numeracy levels still lag behind their Asian counterparts.
UK School Minister Nick Gibb announced on Tuesday that more than 8000 primary schools, half the total number in England, will receive support to adopt the "maths mastery approach" or "Shanghai-style" math teaching method. It is set to become a standard fixed in British classrooms.
"I am confident that the steps we are taking now will ensure young people are properly prepared for further study and the 21st century workplace," Mr Gibb said. "And that the too-often heard phrase 'can't do maths' is consigned to the past."
The school minister has advocated British schools to introduce the Chinese "chalk and talk" maths teaching method since late 2014. In March, Mr. Gibb visited Shanghai to learn from its maths teachers. So far, nearly 130 Chinese maths teachers have travelled to the UK for maths teaching exchanges.
Reports suggest 15-year-olds in Shanghai have numeracy levels that are about three years ahead of their British counterparts. Meanwhile, recent international tests show 15-year-olds taught in places such as Shanghai, Hong Kong and Singapore are less "functionally innumerate", or unable to perform basic calculations.
The Department of Education expects that within four years, the huge investment will allow hundreds of local teachers to be trained and 35 maths hubs to be established in British schools.
But critics of the so-called "rote learning" argue that the repetition method may not enable pupils to understand the fundamental ideas behind maths and solve the real maths problems in everyday life.
Dr. Lv Jiexin from Shanghai Normal University, also a senior coordinator of China-UK maths exchange schemes, believes "the new policy is not a complete copy of Chinese maths teaching; instead it is part of the British government's overhaul to improve the maths education of its citizens. "