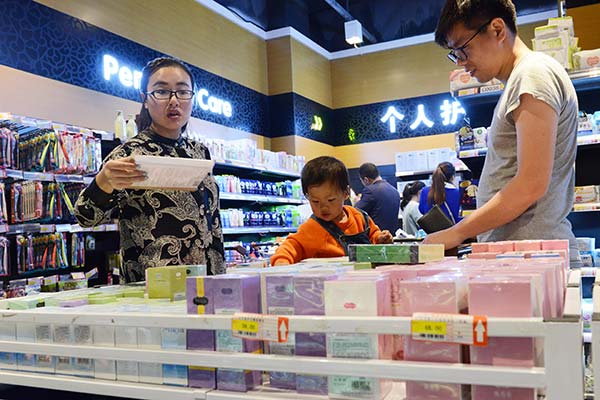 A family of three shopping at a duty-free store at Zhengzhou Airport, Henan province. ZHANG TAO / FOR CHINA DAILY
A weekend visit earlier this month to a duty-free shop near my apartment in Beijing rekindled my bitter-sweet memories of the store about two decades ago and showed how fast the shopping behavior of the Chinese has changed since then.
It was in the early summer in 1992, just before the Olympic Games in Barcelona. I was back from the United States after nearly a one-year exchange program and was therefore qualified to buy some imported goods at the shop, which was exclusively for those who returned from overseas.
I bought a 25-inch color TV, a Japanese brand, and some other small electronic items. I used up all my savings from my meager stipends, but I was still quite happy because I would not miss the live telecast of the Olympic Games. At that time, supplies of products such as color TVs were still in short supply, particularly so-called high-end imported products.
During my recent visit to the store, which is now called a duty-free shop, I found it has been completed changed, both the interior and sales items. The revamped, air-conditioned shop has special sections for imported wines and foods, cosmetics, watches and jewelry, bags and suitcases, all of them high-end or luxury brands.
The shop is not as crowded as it was some two decades ago. Customers were also pickier with their bargains, but seemed to be ready to use up their quota of 5,000 yuan ($750). One woman, who bought goods valued in excess of the limit, even asked my wife to use part of our quota, and we agreed, because we still had more than 2,000 yuan of the quota unused.
I bought a washable electric shaver, with a price tag of 999 yuan, and some chocolates. Back home, I compared the price of the shaver, a well-established brand from the Netherlands, with the offerings on a big e-commerce platform, and found that my purchase saved me at least 300 yuan.
Different from duty-free shops at airports and ports, which serve all international visitors, the one in the city proper which I visited, which is operated by China National Service Corporation for Chinese Personnel Working Abroad, serves only Chinese nationals back from overseas, with entry and exit records in the last three months. Its offerings may not be as fancy or new as the airport shops, but still should satisfy the needs of most consumers.
Nowadays, Chinese domestic supplies of products are abundant and the growing affluent Chinese consumers, who could easily make outbound trips, have more options for purchases of high-end and luxury goods: foreign shops when traveling overseas, cross-border e-commerce platforms, online purchasing agents and duty-free shops in the country.
According to the World Travel and Tourism Council, Chinese travelers spent more than $215 billion on their trips in 2015, rising 53 percent from a year earlier, making the Chinese tourists the biggest spender in the world. This amount was virtually equivalent to the 2015 GDP of Ireland!
Earlier this year, the government announced measures to develop duty-free shops in a bid to shore up the economic growth, and to bring part of spending overseas back home. After my visit to the shop, I believe it could be part of the solution to stimulate consumption and may help bring a portion of overseas shopping spending by the Chinese consumers back home.
For duty-free shops, the saying that "good wine needs no bush" may not apply. That is, they also need some sort of publicity among consumers. When I talked to my colleague about the shop, she did not know the duty-free shop still exists either.
For consumers, a well-developed duty-free shop system could help free them from the trouble of carrying goods on their long-distance journeys and could still give them access to the goods they need near their homes, at duty-free shops either at the airports or in the cities.
If consumers could buy the same goods at domestic duty-free shops at the same or slightly higher prices as in foreign shops, I believe they would devote more of their trips to sightseeing and leisure rather than shopping.
(By Gao Jin'an)