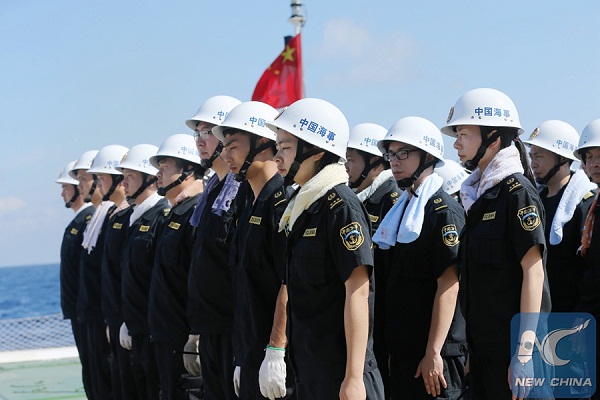 Crew members take part in a fire drill on China's largest and most advanced patrol vessel Haixun 01 on the South China Sea, April 4, 2016. Haixun 01 is the first Chinese vessel to incorporate marine inspection and rescue functions. The 5,418-tonnage Haixun 01 is 128.6 meters in length, 16 meters in width and can sail for 10,000 nautical miles (18,520 km) without refueling. (Xinhua/Xing Guangli)
On the South China Sea issue, some Western media have spared no efforts to make "news", tapping lies to cover the truth and misguide public opinions thereon, which is considered by experts and scholars to be unfair and misleading."Beijing says 60 countries back stance on international tribunal; only 8 have publicly stated support," wrote the Wall Street Journal in a recent article sub-title.
This is a typical example of how Western media have misrepresented the South China Sea dispute, a hot topic pending the July 12 issuance by the Hague-based Permanent Court of Arbitration of an award on an arbitration case unilaterally initiated by the Philippines against China.
A quick glimpse of the website of the U.S. magazine The National Interest shows that there are quite a number of articles concerning the South China Sea, including ones titled "China's Reckless South China Sea Strategy Won't Work", and "China's Bogus South China Sea Consensus", among others
Almost all of these headlines are biased in opinion and exaggeratedly worded, without uttering the least responsible words as a magazine in a big media country.
Japan's The Diplomat, America's Business Insider and the Washington Post have frequently mentioned in their reports that China intends to turn the South China Sea into its "internal lake" or "a Chinese lake".
In doing so, they just turned a blind eye to the fact that the South China Sea islands have been part of the Chinese territory under international law and since ancient times, and played up sensational concepts in a bid to wrench the facts and misguide their readers.
Some media even simply fabricate stories in order to smear China, attempting to impress their readers that the situation is tense in the disputed waters.
Abandoning media's principles, the New York Times published in October 2015 an article entitled "U.S. Tells Asian Allies That Navy Will Patrol Near Islands in South China Sea", intending to alienate relations between China and the ASEAN countries.
Some think tanks in the United States and Japan, in the name of academic research, have kept providing Western media with "ammunition" to attack China.
The U.S.-based Center for Strategic and International Studies (CSIS), for instance, has held meetings, issued reports and published satellite images on the South China Sea almost every year since 2011.
It's noteworthy that one of the sponsors of the CSIS is Japan, a close ally of the United States in curbing the rise of China.
In that sense, the arbitration case initiated by the Philippines against China has been heavily reported by some Western media, with biased points of view. But they have been unable to hoodwink clear-minded observers.
Ben Reynolds, a U.S. foreign policy analyst, criticized a recent New York Times editorial "Playing Chicken in the South China Sea", which has exaggerated China's "threat" to the countries in the region and the United States.
Misleading the American public about U.S.-China rivalry in the South China Sea with "well-chosen episodes" is the job of the Defense Department, which should not be done by media, Reynolds said.
David Welch, a professor of political science at Canada's University of Waterloo, shared Reynolds' opinion.
Quite a number of Western media stories on the South China Sea issue have been both inaccurate and unhelpful, Welch said.
On the media coverage, readers almost always see reference to "China's aggressive behavior or China's aggressive land reclamation in the South China Sea," said Welch.
"Labeling China's behavior as aggressive ... in effect contributes to the demonization of China," he said.
Welch said: "If we read the international press you will get the impression that China is hostile, and it's not obviously true."