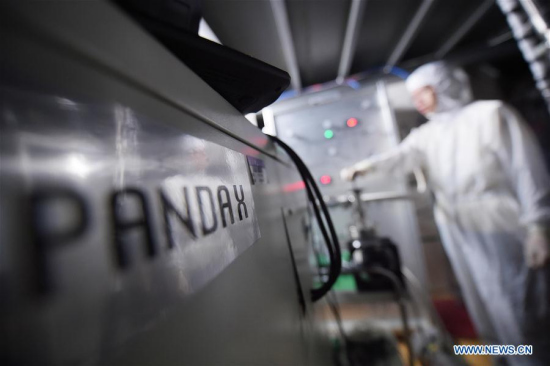 An experimenter of Dark Matter Experiment "PandaX", which means Particle and Astrophysical Xenon Detector, checks facilities in the Jinping Underground Laboratory, located at 2,400 meters under the surface of Jinping Hydropower Station, in Sichuan Province, June 28, 2016.
Chinese scientists are expanding the capacity of an underground facility designed to detect elusive dark matter particles.
Scientists are still searching for evidence to prove the existence of the hypothetical dark matter, an invisible substance thought to account for over a quarter of the universe's mass-energy balance.
The Jinping Underground Laboratory, which is 2,400 meters under a mountain in Sichuan Province, started operating in December 2010. It has a store of xenon, one of the few materials that interact with dark matter, and the cosmic rays that commonly interfere with attempts to observe dark matter generally cannot penetrate to such a depth underground.
Xiao Mengjiao, a researcher at the laboratory, said he and his colleagues have started the second phase of their experiment.
The lab now stores 300 kilograms of xenon, an expansion from the 54 kilograms in the first phase.
"In the future, the quantity of xenon will reach a number of tons, but it will depend on when the research funding arrives," Xiao said.
The second phase, which will last about a year, "will take us further on our way to find dark matter signals," he added.
Analysis of data collected during a trial run of the second phase from November to December is complete, according to the scientist. "The results are a significant step forward from the first phase, because we are able to focus on areas where dark matter is most likely to be observed," he said.
"We have reason to believe we are on the verge of finding dark matter."
But the researchers may need to keep up their current pace if China is to win the race in this field.
"International competition in the hunt for dark matter has gotten quite fierce, and many are building larger detection equipment and adopting more cutting-edge technology," Xiao said.
According to Liu Jiang, another lab researcher, "Dark matter is like the smog in the universe and the Earth is like a car that rides through the smog. It is the detectors' responsibility to record the 'sound' of collision between the car and the smog."