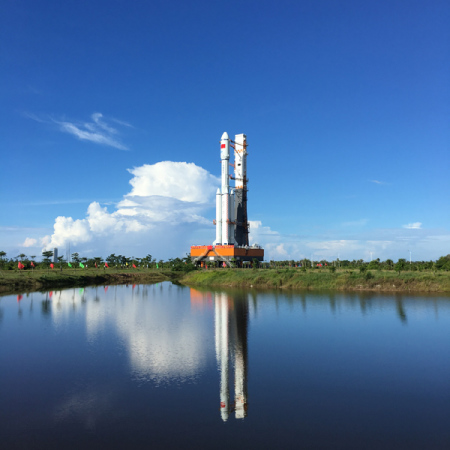 The Long March-7, a medium-sized rocket using liquid propellant, has been moved vertically to the launch pad after a three-hour transport from the test lab in Wenchang, South China's Hainan province, on June 22, 2016. (Photo provided by China Academy of Launch Vehicle Technology and Wenchang Satellite Launch Center)
The Wenchang Satellite Launch Center, China's newest space facility, will soon carry out its first mission to send the country's next generation Long March 7 carrier rocket skyward.
Yi Ziqian, deputy director at the Xichang Satellite Launch Center who also heads the Wenchang center, said on Friday that the Wenchang facility had completed all preparations for the maiden flight of Long March 7 and was ready to fuel the rocket.
Wenchang Satellite Launch Center, in the southern island province of Hainan, is administered by the Xichang center.
The China Manned Space Program announced on Wednesday that the first use of the Long March 7 will take place between Saturday and Wednesday, depending on conditions. The rocket was moved in a vertical position to its launchpad on Wednesday morning, waiting for its public debut.
Before the end of the year, the Long March 5 heavy-lift rocket will also make its first flight from the center.
The Wenchang Satellite Launch Center is China's latest launch facility, following the Xichang center in Sichuan, Taiyuan center in Shanxi and Jiuquan center in Inner Mongolia.
Covering about 12 square kilometers, it will be used to lift heavyweight satellites, deep-space probes, cargo spacecraft and the country's future space station that is planned to be built around 2022, according to Wang Zemin, a senior engineer who oversees the center's launch operations.
Construction of the center was approved by the State Council and the Central Military Commission in 2007 and began in 2009. Work on the facility was completed in 2014 and the center conducted tests with prototypes of the Long March 7 and Long March 5 last year.
"The biggest advantage of the Wenchang center is its low latitude-only 19 degrees north of the equator, which will enable rockets to save a lot of fuel and to carry heavier payloads, compared with launches from the other three centers in China," Wang said.
Its location also helps to improve the nation's space launch network, thus strengthening China's overall launch capability. Moreover, the center's proximity to the sea allows rockets to be transported there by ship, he added.
Other launch centers have to transport rockets using the country's railways, which are too narrow to carry China's next-generation, large rockets such as the Long March 5 that has a 5-meter diameter core booster.
These advantages enable the Wenchang facility to launch a wide range of satellites and spacecraft, which means it will be competitive in the international commercial launch market, according to Yi.