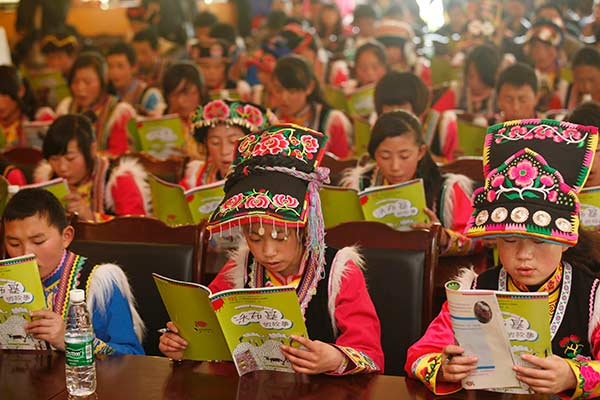 Students from the Qiang ethnic group study the regional textbook in Sichuan province. CHINA DAILY
Former editor is driven to educate students about their ethnic identities and inspire them
Wang Xiaoping says she quit her job in 2002 at the age of 55 when she came under pressure after working as commissioning editor on a controversial novel.
Ten years later, that novel's author, Mo Yan, had won the Nobel Prize in Literature.
Wang remembers that day as a crossroads. She said she told a friend who called up to comfort her: "Don't worry. I already have a new job."
That new job, for a nonprofit organization called the Beijing Brooks Education Center, started out as wetland protection. But it was not long before, "spurred by an editor's instinct", she was finding people in remote areas in need of books.
Along with several editor friends, she applied for support from foundations at home and abroad, and raised money to start building village libraries. A year later, she had helped establish more than 30 in some of China's least developed areas.
But a 2005 visit to Jishou, a less-developed part of western Hunan province, gave her new inspiration. The mountainous region that had been a water transport hub for hundreds of years was home to several ethnic minorities.
"But many locals, particularly the children, were not aware of the history and origins of the unique Jishou culture," Wang said.
So, she started a new project-to compile cultural regional textbooks for children.
During the past 10 years, with the help of local education authorities, schools, friends and charities, she has published 10 such books for primary and junior middle school students in the provinces of Hunan, Yunnan, Sichuan, Gansu, Guizhou and Heilongjiang, and the Inner Mongolia and Guangxi Zhuang autonomous regions.
"The loss of regional culture is heartbreaking to me," Wang said.