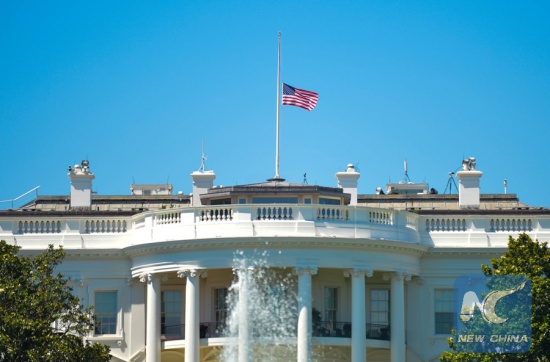 The U.S. national flag flies at half-mast at the White House to mourn the victims of the mass shooting at a gay night club in Orlando, in Washington D.C., the United States, June 12, 2016. (Photo: Xinhua/Bao Dandan)
U.S. President Barack Obama on Sunday called the mass shooting at a gay nightclub in Florida earlier in the day an "act of terror" and "act of hate."
At least 50 people were killed and 53 others wounded, including a police officer, early Sunday in the shooting at the popular gay nightclub Pulse in Orlando, Florida. It is the deadliest shooting incident in the U.S. history.
"Although it's still early in the investigation, we know enough to say that this was an act of terror and an act of hate," said Obama at the White House briefing room.
Speaking at a briefing, a local surgeon told reporters that many of those injured were "critically ill as a result of their injuries," suggesting that the death toll could further rise.
The gunman, identified by authorities as Omar Mateen of Port St. Lucie, Florida, was found dead inside the nightclub after a shootout with the police.
The shooting began around 2:00 a.m. local time (0600 GMT) inside the nightclub and there once was a confrontation between the suspect and an officer working at the club outside the venue, according to local police.
Then the suspect went back into the club to continue shooting and took hostages.
About three hours after the shooting first broke out, police shot and killed the suspect during actions to rescue the hostages.
"It appeared he was organized and well-prepared," said Orlando Police Chief John Mina at an earlier press conference, adding that the suspect had an assault-type weapon and a handgun.
So far, it remained unknown if Mateen was motivated by the terror group the Islamic State (IS), though U.S. media reports said he called 911 before the shooting to swear allegiance to IS.