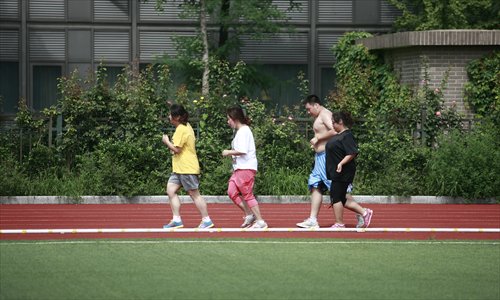 Experts say that people under prolonged stress should find healthy ways of dealing with their depression or anxiety, like watching movies or exercising outdoors. They should also monitor their weight on a weekly basis for major fluctuations. (Photo: Li Hao/GT)
Yang Panpan's misery started with her unhappy marriage, but that isn't where it ended. Over the past seven years since she first married, Yang, a 30-year-old woman who lives in Suzhou, Anhui Province, has seen her internal turmoil expressed outwardly as her weight ballooned from 75 kilograms to 190 kilograms. She couldn't seem to stop gaining weight; it was when she reached more than twice her original size that she began worrying for her life.
Abandoned by her then-husband when she was pregnant in 2009, Yang went on to marry a man she did not love in 2012, which only compounded her sadness. As her mood fell, her weight continued to rise.
"I felt angry, depressed, helpless and anxious, and even when I stopped eating for days, I continued to put on more than 10 kilograms each year," Yang told the Changchun Evening News in a May 10 report. "I tried many ways to lose weight but they all failed, and I am afraid that one day I will die of obesity."
According to a report by the American Journal of Epidemiology, the University College London Medical School recently released the results of a 19-year-long study on the relationship between mental health and the risk of obesity, which found that the two are closely related.
Among the 6,895 males and 3,413 females who were surveyed, all of whom were between the ages of 35 and 55, those who suffered from sustained bouts of stress and depression were 73 percent more likely to become obese.
Depression and other mental disturbances yield a variety of physiological responses - some people can't sleep, others become depressed and still others gain weight. Anxiety, depression and other mental afflictions can trigger what some experts call "psychological obesity," said Li Jing, a doctor at Nanjing Hospital of TCM (traditional Chinese medicine) in a May 20 report by the Nanjing Morning Post.
Eating less but gaining more
Though it may look just like regular obesity, psychological obesity is a distinct condition, as evidenced by patients like Yang.
According to the Changchun Evening News report, Yu Shuzhong, a TCM therapist and expert in weight loss, decided to help Yang in December. Yu found that, in keeping with her assertions, Yang didn't eat much but continued to gain weight, which stands in stark contrast to those who become obese due to a combination of overeating and inactivity.
"Yang is suffering from typical psychological obesity, and the priority is mental intervention in her treatment," Yu said.
He said that Yang's depression and accumulated negative emotions have culminated to create such crushing pressure that it actually changed her physical situation.
"Actually today, we're seeing a sharp increase in psychological obesity, but it's often misdiagnosed," Yu said. "People rarely connect obesity with mental health problems , so they don't even think to consult a psychologist or psychiatrist."
Li said that mental health problems or stress can be expressed in a variety of ways, including mental illnesses like depression and anxiety, chronic pain and now, more frequently, obesity.
"Too much stress can lead to soaring levels of glucocorticoids, a hormone secreted by the adrenal gland," said Li.
"This hormone can change the location of fat in the human body, causing obesity. This is actually a kind of spontaneous attempt by the body to accumulate energy to cope with times of stress."
Li said glucocorticoids can "relocate" fat from less obvious places in the body to the abdominal region, which is also home to most of our vital organs. That makes this kind of obesity more dangerous.