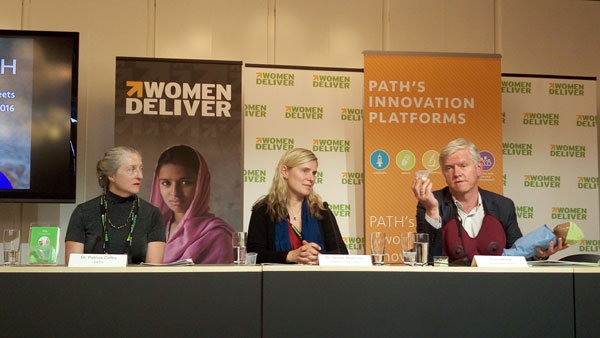 Tore Laerdal(R), Managing Director of Laerdal Global Health, is showing how the Nifty Cup will help on feeding babies with breast milk. (Photo/chinadaily.com.cn)
More than 800,000 children in less-developed countries could be prevented from dying thanks to a feeding cup made in China.
An innovative feeding cup made in China will be brought to market soon, and is expected to deliver lifesaving nutrients to newborns in low-resource settings who have difficulty breastfeeding.
The cup is co-developed by PATH (an international non-profit organization), the University of Washington School of Dentistry, and the Craniofacial Center at Seattle Children's Hospital.
A branch company of Laerdal Global Health in Suzhou, Jiangsu province, is responsible for the manufactory.
The 40 milliliter cup, called the Nifty Feeding Cup, incorporates special design features such as a unique reservoir and flow channels that allow infants to lap or sip breast milk at their own pace.
It helps increase optimal milk intake in the shortest time, with minimal spillage, and allows women to deposit breast milk directly into the same soft silicone cup the infant uses.
"The solution addresses a huge unmet need. This is a safe, high-quality, inexpensive product that hospitals and families can use to feed breast milk to infants in the places where good nutrition can make all the difference between life and death," says Dr. Patricia S. Coffey, leader of the Health Technologies for Women and Children Group at PATH.
The cup is expected to be sold at just $1, according to Tore Laerdal, Managing Director of Laerdal Global Health. He said it will be an innovative option for the 7.6 million preterm infants in Africa and Asia who have difficulty breastfeeding.
According to a recent article in The Lancet, the scaling up of breastfeeding to a near-universal level could prevent 823,000 deaths annually of children younger than five years of age.
The World Health Organization and United Nations Children's Fund recommend hand expression of breast milk and the use of a small cup to feed newborns with breastfeeding difficulties in developing countries.