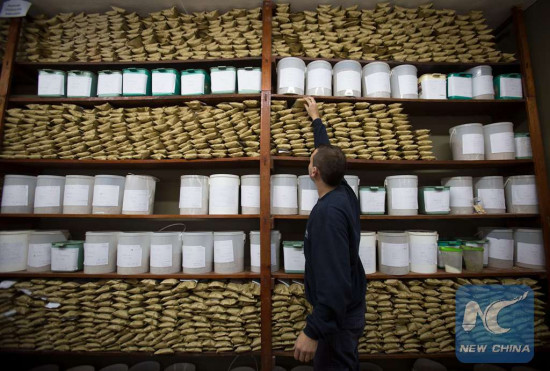 Image taken on May 11, 2016, of an employee storing a backup sample of soy seeds, in the Soy Gathering, Conditioning and Marketing Plant of the agricultural cooperative "Argentine Federated Farmers" in Maciel city, Santa Fe province, Argentina. (Xinhua/Martin Zabala)
Rosario, Argentina's port city and busiest agricultural exports hub, some 300 km north of Buenos Aires, is an important bond between Argentina and its second-largest trade partner and largest destination for exports -- China.
"Ties with China are very important, since it is the main buyer of our products," Alberto Padoan, president of the Rosario Board of Trade (BCR), a forum for trade negotiations of agricultural products, told Xinhua.
Greater Rosario takes up between 68 percent and 75 percent of Argentina's agricultural exports, between 93 percent and 95 percent of its processed foods exports, according to the head of the BCR, which was founded in 1884.
The amounts are substantial, considering that Argentina is the world's largest exporter of soybean meal and of soybean oil, the second-largest exporter of bio-diesel made from soybean oil, and the third-largest exporter of soybeans.
A total of 20 mills standing along the banks of the region's Parana River produce 250 million tons of milled soy and sunflower seeds a year, said Julio Calzada, head of the BCR's Information and Economic Studies Office.
He said Rosario is "highly important to Argentina and the world's seed oil production."
In the past nine years, between 76 percent and 81 percent of the country's seed oil has been exported from port terminals in Greater Rosario, according to the BCR.
Corn oil and soybean oil top the list of exports, with China as their main destination importing 26 percent of the total, or 9.3 million tons, followed by Brazil with only 3.7 million tons.
Calzada said there are numerous cooperation opportunities between Argentina and China, and the ground for cooperation between Chinese and Argentine businesses, especially on biotechnology, is solid.
He cited the cooperation between Argentine company Bioceres and Chinese company Dabeinong Technology Group as an example. The two companies have jointly developed resistant soy and corn seeds that withstand not only drought and salinity, but also insects and herbicides.
Calzada also said there are "excellent possibilities" of cooperation to build corn mills, produce ethanol, develop livestock vaccines and anything related to poultry and dairy.
Diego Vinas, a cereals broker at the BCR, said there is ample room for growth in the Argentine agricultural sector.
Argentina generates 144 billion U.S. dollars a year in revenues from exports, but agriculture contributes only 12 billion dollars, less than 10 percent, said Vinas.
He hoped that China can help improve infrastructure, such as renovating the country's Belgrano Cargas cargo rail network through northern provinces, which can play a key role in getting crops and harvests to ports for export.
"Infrastructure is Argentina's weakness and China's help can give it a new impetus, which can benefit both Argentina and China," Vinas said.