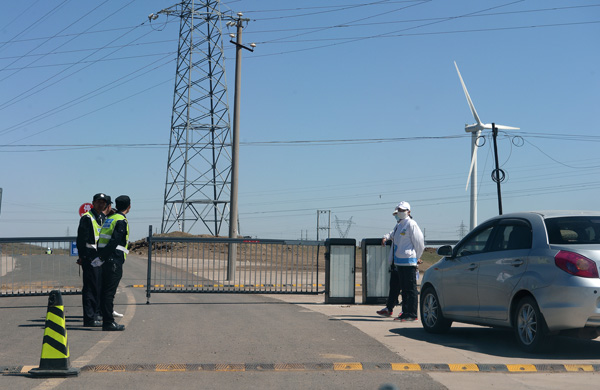 Police officers wait to check tourists' tickets to Grass Skyline, a scenic road in Zhangbei county, Hebei province, on May 10, 2016. (Photo by Wu Jiang/For China Daily)
A local tourism bureau is defending a new toll on one of China's most scenic roads after drivers complained.
The tourism bureau in Zhangbei county, Hebei province, said on Tuesday that the 50 yuan ($7.70) per-person charge introduced on May 1 is both reasonable and lawful.
It said money collected from tourists driving Grass Skyline, which is known as "China's Route 66", will be used for maintenance and environmental protection.
More than 330,000 travelers took the trip last year, with 6,000 vehicles a day meandering through the beautiful scenery on the busiest days, according to the bureau.
But many drivers complained about the introduction of the toll.
"Why should the local government charge for an ordinary road?" asked Liu Hechuan, a motorist who drove the road in August.
Many other drivers and media outlets have also criticized the move, because drivers in China usually only encounter toll charges on certain expressways.
But Du Yongku, the deputy director of communications with the Zhangbei Tourism Bureau, defended the charges, saying they are not really toll charges, but entrance charges for the area of outstanding natural beauty.
"The charge is for the entrance ticket of the scenic area, which is in line with government regulations," Du said.
Du noted that the road and its surrounding areas were named a city-level scenic area in March by Zhangjiakou, the prefecture-level city in northwestern Hebei province that is responsible for the region.
It was a dirt road for many years but was paved in 2012. Following the upgrade of the 133-kilometer route, an increasing number of drivers have been taking road trips.
"We used to go sightseeing and relax along that beautiful road on summer weekends," said Wang Lei, who lives nearby. But he and many other locals now avoid the road because of the large number of tourists and the growing problem with trash.
Du admitted that congestion and pollution had become a problem along the road, something he attributes to a lack of management in the past.
"That's why we started charging the fee, to pay for better management and for ecological protection," Du said.
Last year, the local government established amenities for tourists along the road that include 23 parking lots, 41 public toilets, three tourist service centers and 34 road signs.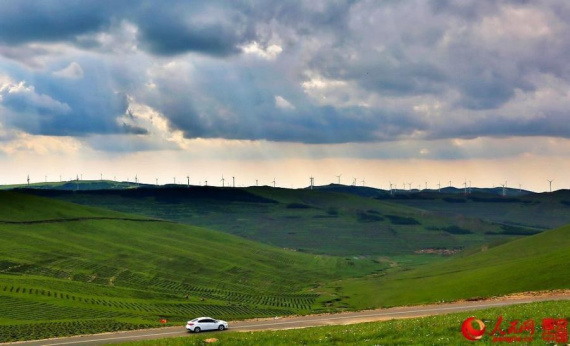 Photo of Zhangbei Grassland Highway, or known as the Grass Skyline, on the outskirts of the city of Zhangjiakou in north China's Hebei Province. Built in 2012, the 132-kilometer stretch of road is renowned for its intoxicating scenery. (Photo/people.cn)