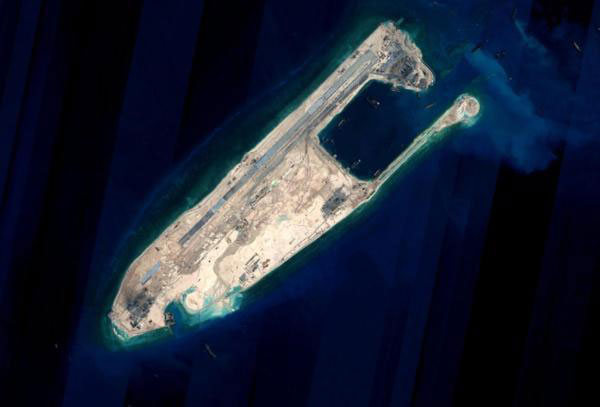 This satellite image shows the Yongshu Jiao of China's Nansha Islands. (Photo/Xinhua)
Incident 'further justifies building of defense facilities'
Beijing expressed "resolute opposition" on Tuesday to a patrol by a United States warship in the South China Sea near Yongshu Reef in the Nansha Islands.
The Ministry of National Defense said the patrol only further justified China's construction of defense facilities in the area.
The U.S.S William P. Lawrence entered Chinese waters near the islands illegally on Tuesday, Foreign Ministry spokesman Lu Kang said, adding that the warship was monitored, tracked and warned.
Yongshu Reef belongs to China but is also claimed by Vietnam and the Philippines.
Reuters quoted Bill Urban, spokesman for the U.S. Department of Defense, as saying that the freedom of navigation operation was a challenge to "the excessive maritime claims of some claimants in the South China Sea".
Lu said, "The action by the U.S. threatens China's sovereignty and security, endangers the safety of people and facilities on the reef, and harms regional peace and stability.
"China strongly opposes such action by the U.S. and will continue to take measures to safeguard our sovereignty and security." Lu said the flexing of U.S. military muscle in the name of freedom of navigation poses the biggest threat to peace and stability in the area.
The Defense Ministry said China has dispatched vessels and aircraft, including two fighter jets and three warships, to identify the U.S. vessel and warned it to leave.
The ministry said the provocation exposed an intention "to disrupt the regional situation and reap gains from it, and further proved that China's construction of defense facilities on ... islands and reefs in the Nansha Islands is totally justified and very necessary".
China will enhance maritime and air patrols as well as the construction of "various defense capacities" in the area according to its needs, it added.
Li Guoqiang, deputy head of the Chinese Academy of Social Sciences' Institute of Chinese Borderland Studies, said the unauthorized entry into Chinese territorial waters by the U.S. military vessel "is against the UN Convention on the Law of the Sea, and violates the rights littoral states enjoy under the convention".
The U.S. has frequently demonstrated its military power in the South China Sea recently. Examples include U.S. B-52 bombers flying near Huayang Reef in December and the destroyer U.S.S Lassen entering within 22 kilometers of Zhubi Reef in October.