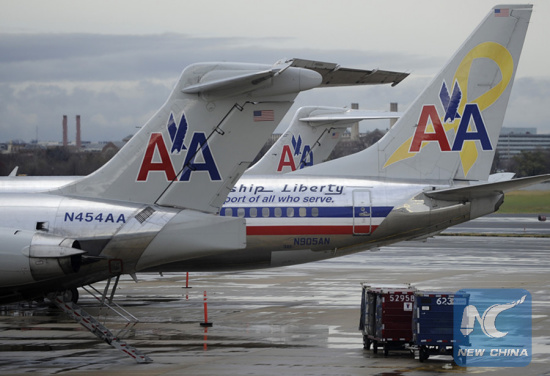 File photo shows American Airlines planes park at Ronald Reagan National Airport in Washington D.C., Nov. 29, 2011. (Photo: Xinhua/Zhang Jun)
A coffee-skinned Italian math professor was nearly kicked off an American Airlines plane on Thursday. The reason is his neighboring passenger thought his mysterious scrawls on a notepad were terrorism-related.
However, Guido Menzio, an economics professor at the University of Pennsylvania, was actually working on an calculus equation for an upcoming presentation.
The paranoid passenger got alarmed when she tried to talk to the professor, who was too absorbed to start a random chat.
Since the plane was still sitting at the tarmac of the Philadelphia Airport, the woman told the staff aboard that she felt sick. She got removed from the plane before revealing her suspicion towards Menzio to the airliner staff.
The professor was then removed from the plane for interrogation. "The pilot comes to me and asks me out of the plane, there I am met by some FBI looking man-in-black, " he wrote in a post on his Facebook account.
Staff then discovered his real identity and understood what he was actually doing. He was allowed back onto the plane, but the flight to Syracuse of New York was delayed for 1.5 hours.
"It's bit Funny, it's bit worrisome," Menzio wrote in the Facebook post. "The lady just looked at me, looked writing of mysterious formulae, and concluded I was up to no good......Trump's America is already here"