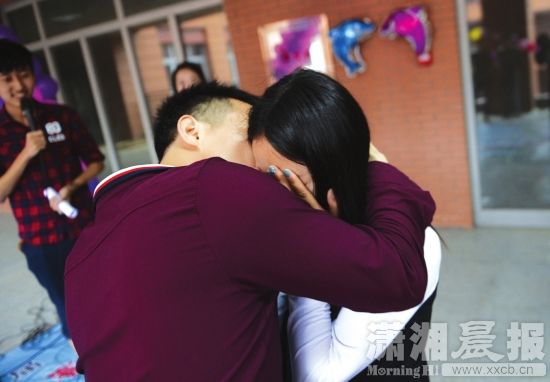 A girl covers her face with her hands while being kissed by a stranger. (Xxcb.cn/Gu Pengbo)
Would you dare to accept a kiss from a total stranger? College students from Hunan University, Central South University and Hunan Normal University recently held a "kiss a stranger" contest. Starting in March, the organizers began to recruit volunteers. In total, 200 students signed up, though only 10 couples accomplished the task.
The students conceived of the activity as a way of expressing mutual trust. All the volunteers were between the ages of 18 and 22. Of the 200 volunteers, there were just under 80 female students. However, on May 7, of the 40 volunteers that showed up, there were more females than males.
Volunteers first played a few warm-up games to get to know each other. Then they picked their kissing partners through a drawing. During the half hour activity, 10 couples failed to kiss. Overall, the female participants displayed more initiative than the males.