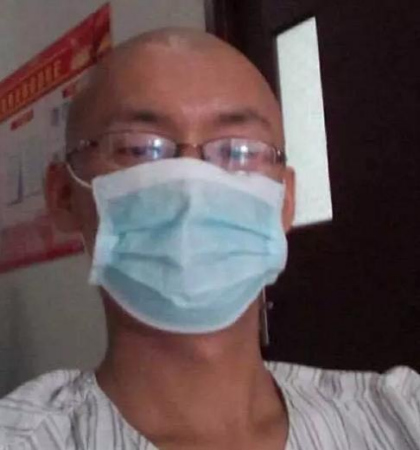 Wei Zexi (File Photo)
The Cyberspace Administration of China (CAC) on Monday said it had despatched a team of investigators to Chinese search engine Baidu after the death of a 21-year-old college student sparked debate over the Internet giant's ethical responsibility.
The investigators are from the CAC, the State Administration of Industry and Commerce and the National Health and Family Planning Commission, according to CAC spokesperson Jiang Jun.
NASDAQ-listed Baidu is in the eye of a public-relations storm after the death of Wei Zexi, a computer science major at Xidian University in northwest China's Shaanxi Province.
Wei was diagnosed with synovial sarcoma, a rare form of cancer, in 2014 and had been undergoing a controversial cancer treatment, which was advertised on Baidu, at the Second Hospital of the Beijing Armed Police Corps, which the Wei family also found through a Baidu search.
The treatment, which uses cells generated by the patient's own immune system to counter the illness, cost the Wei family around 200,000 yuan (about 31,150 U.S. dollars). It was unsuccessful. Wei died on April 12.
"Baidu, we did not know how much evil it could do," Wei wrote in February this year on question-and-answer website Zhihu, the Chinese equivalent of Quora.
His accusations have now put Internet giant Baidu under fire with angry netizens blaming the search engine for not checking the credentials of advertisers.
"It [Baidu] makes money by taking lives," one netizen commented under Wei's final post on his Weibo account.
Another Weibo user wrote, "May there be no more cheating in heaven."
Baidu on Sunday said on its Weibo account that it had filed a request for the hospital to be investigated, and that it would "fully support Zexi's family should the investigation confirm malpractice at the hospital."
"We deeply regret the death of Zexi. May Zexi rest in peace," the company said in an earlier statement.
A search for synovial sarcoma on Baidu does not seem to return links related to the hospital in question any more.
Like other search engines, Baidu earns money from selling links that appear in search results. The more an advertiser pays, the higher its ads will be ranked in the search results.
This is not the first time that Baidu has been accused of being unethical.
Earlier this year, the search engine faced widespread criticism for selling the management rights for an online forum related to hemophilia to an unlicensed private hospital, which used the platform for self-promotion and deleted comments that challenged its credentials.
A Zhizhu user "ytytytyt" who researched forum ownership was quoted in a January Xinhua report as saying that as many as 40 percent of Baidu's disease-related forums had been sold to "unscrupulous private medical groups, drug manufacturers and charlatans."
Private hospitals were estimated to have contributed at least 10 billion yuan (1.52 billion U.S. dollars) to Baidu's ad revenues in 2014, according to a report carried by Tencent Technology last year.