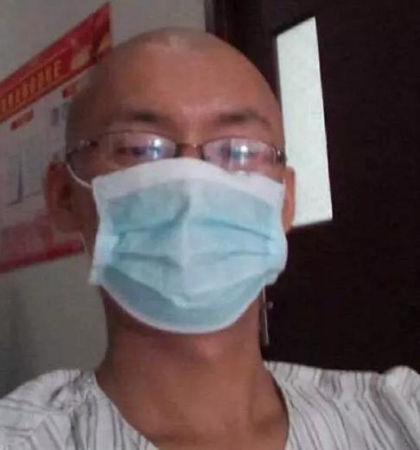 Wei Zexi (File Photo)
Today, an online post about Chinese search engine Baidu and a hospital became viral.
Wei Zexi was a 21-year-old college student diagnosed with a rare form of cancer. Wei sought treatments in different hospitals and with his condition not improved, he turned to Chinese premier search engine Baidu (NASDAQ: BIDU) for help. The Baidu (百度) search led Wei to the Second Hospital of Beijing Armed Police Corps. The treatment Wei received at this hospital, which reportedly had cost the 200,000 yuan (around $31,000) Wei and his family borrowed from friends and relatives, was not successful. Wei died on the morning of April 12, 2016.
When Wei Zexi was alive, he wrote a post on question-and-answer website Zhihu, a Chinese equivalent of Quora, detailing what he had experienced and said the effectiveness of the specific treatment he received has been contested in foreign countries. The hospital claimed that the treatment using cells generated by the patient's own immune system to counter cancer was a research collaboration with the Stanford medical school, which was later reported to be a lie.
President Xi Jinping presided over a symposium on cybersecurity and informatization on April 19, stressing that "Web entrepreneurs should not regard clicks as their only goal. Online shop owners should not sell counterfeit or substandard products. Social media organizers should not spread rumors. Search engines should not arrange the information sequence only based on how much they pay."
This time, the controversy falls on allowing companies who pay more to appear high on search result rankings, even when such companies may not be qualified to provide the service.
In early January this year, Baidu was widely criticized for "selling" moderation rights on online forums related to hemophilia to the detriment of such group users' interests, and causing many forum users, who were also the blood disease patients, fell as victims of a scam.
At the time, Baidu apologized and said it would seek ways to "reflect deeply" on such practices.
Just three months later, Baidu once again became the target of public criticism. One couldn't help but doubt, is this a coincidence or just an inevitable result?
Baidu has made two responses to Wei Zexi's death. The first one said that the Second Hospital of Beijing Armed Police Corps is a "primary" institution in China's 3-tier system that recognizes a hospital's ability to provide medical care, medical education, and conduct medical research, and thus is fully qualified. The second response said that Baidu is "proactively" looking into the credentials of the hospital under scrutiny and called on related authorities to give "high priority" to the case.
The Second Hospital of Beijing Armed Police Corps has remained silent in this case. The regulatory authority's actions are vital to bring the case to full investigation to reveal the truth at this stage.
"Each man is questioned by life; and he can only answer to life by answering for his own life; to life he can only respond by being responsible," Austrian neurologist and psychiatrist Viktor Frankl once said. "Being responsible" is the core essence of human's existence. Companies that were involved in services that deal with human life should be particularly conscientious of their duties when conducting their businesses. Billions of net users trusted Baidu for their search engine and online forum services, the company is hence responsible for the trust and is obligated to taking up their social responsibilities.
With great power comes great responsibility, large corporation has huge responsibility. The responsibility is not limited to "not being evil", or to tolerate evil, but to stand up for the company's ethics. Profit considerations shall not be placed over social responsibility. Selling online forums and allowing companies who pay more to appear high on search result rankings can generate quick cash. However, overlooking social responsibilities and only pursuing economic revenue can cost companies public's trust. Without consumers' trust, the firm won't last long.
The rule is not only applied to Internet companies, but to all enterprises, especially hospitals. "First do no harm" is a part of the Hippocratic oath historically taken by physicians in the west. In its original form, it requires a new physician to swear, by a number of healing gods, to uphold specific ethical standards. Pursuing profits is not wrong, but putting profits over helpless patients' lives is against any ethical standards.
Ranking medical information by how much revenue it generates can be a matter of life or death to anyone. The ranking of medical information needs to be regulated, it needs to be legally binding and to be treated carefully. There have been hospitals making profits at the cost of killing patients who were directed by false advertisements paid at a higher rank in search results. After all, lots of the patients who are in critical situations are credulous. They tend to be easily targeted by such acts because they are willing to pay a fortune for a chance to live, but in some cases they were only left to miss out the best chance for effective treatment. When rank bidding system meets with profit-seeking hospitals, both sides are responsible for the mistreatment.
"Don't be evil" is not a bottom line for companies, instead, taking up responsibilities is. Companies' competitiveness and development came from actively taking up social responsibilities. From selling the blood disease forum to the death of a 21-year-old student, a question shall be raised for baidu to answer, that is how they are going to take up the responsibilities. The value of a company is not how much its stock worth, but how much it has helped people, changed the world and how much its conducts are respected by the public.
Internet companies shall think about how to reform their corporate values. If they kept the current conducts of passively answering criticisms and avoiding taking responsibilities, they would lose people's trust and respect. Only by accepting the social responsibility can the Internet corporations be competitive and enjoy better development. An enhanced development of the Internet is needed for China and Internet corporations need to harness it for the benefit of the country and the people.