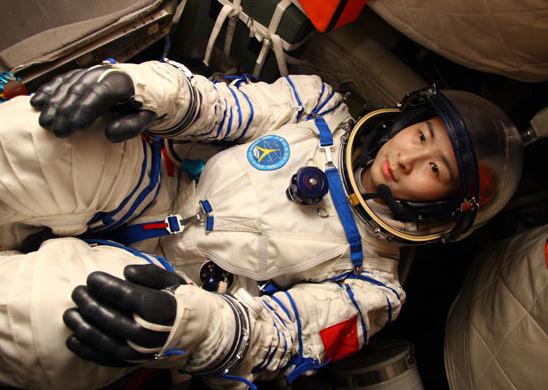 Astronaut Liu Yang during training. (Photo/China Daily)
China's first female astronaut has claimed that women have unique advantages in working in space.
"Women's inherent patience, sensitivity and sympathy mean they are more likely to avoid conflicts, especially in cramped conditions of most spacecraft," said Liu Yang on Sunday, China's first "Space Day."
The government recently designated April 24, the anniversary of the country's first satellite launch 46 years ago, as an annual occasion for raising awareness of Chinese achievements in space. Liu's comments come as China is preparing to send astronauts into space for far longer periods, with a manned Chinese space station due to begin operations around 2020.
"Women will play a more important role when spending a long time in space," Liu said.
FROM BOUND FEET TO BOUNDLESS FLIGHT
China was the third country to send a female citizen into space using its own technology. Liu's flight is part of a remarkable turnaround in Chinese attitudes to women.
They occupied a lowly status in thousands of years of feudal society. As recently as 100 years ago, many Chinese women were made to endure the pain of foot binding to please men and to share their husband with other women.
It was not until the establishment of the People's Republic of China in 1949, and Chairman Mao Zedong's remark that "Women hold up half the sky," that things began to change.
Today, Liu believes that women are ready to "hold up half of space" and that she was "in the right place at the right time" to take advantage of Chinese women being allowed to assume a bigger role.
Born in Henan Province, Liu joined the army in 1997. She became a veteran pilot before being recruited as a prospective astronaut in May 2010.
NEVER LEFT BEHIND
Liu blasted into space on board Shenzhou-9 in June 2012. Her presence in the spaceship required a set of adjustments to China's space program to meet the needs of a woman.
"New spacesuits, underwear and sport suits had to be tailored for female astronauts. Excrement devices are also different for us too," Liu said.
To date, more than 50 women have traveled into space. "The world is made of two genders; space permits no exceptions. Space exploration would be incomplete without the participation of female astronauts, and China should never be left behind in sending women to space," Liu said.
In 2013, Wang Yaping became the second Chinese woman in space. She gave an inspirational lecture to students on Earth via a live video feed.
ALWAYS READY
Following Wang's video, Liu is at pains to point out to any Chinese girls wanting to become astronauts how tough the preparation is. No exceptions can be made for women.
"Space will never favor you just because you are a woman," Liu said. "Thus there's no difference between men and women in the training process."
Two year's training has made Liu a strong person: "Every session aims to stretch you to your limit, and I grew stronger every time I challenged myself."
Asked what she has been doing since June 2012, Liu said she has never stopped training, "in order to be always ready for the next mission."
In particular, Liu is eyeing a place on the Chinese space station. She is desperate to be on board what she described as "China's grand villa in space."