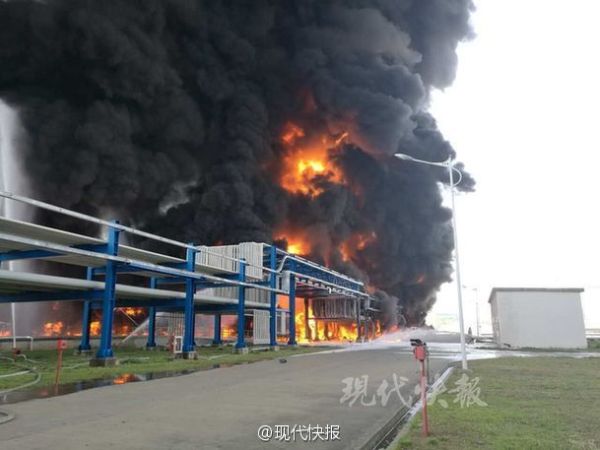 A warehouse storing chemicals and fuel exploded and caught fire in the eastern Chinese city of Jingjiang on Friday, April 22, 2016. (Photo/Sina Weibo)
A warehouse storing chemicals and fuel exploded and caught fire in Jingjiang city, East China's Jiangsu province, on Friday, according to media reports.
Local authorities said the blaze was under control and no casualties were reported.
Photos posted online showed dark clouds of smoke rising from the blaze from the block of storage tanks located at the Jingjiang Port.
A nearby resident surnamed Zhong told Modern Express that the fire started around 8 am, and the flames rose to some 30 meters into the sky.
News website ThePaper.cn reported that a company called Jiangsu Deqiao Storage ran the warehouse and the company was authorized to keep hazardous chemicals.
Local residents have complained of foul air quality caused by the company since the warehouse started operation in July 2010, the news site added.
The Jingjiang government said on its microblog that the fire was "under control" with no deaths or injuries. It said the materials that caught fire include methanol and mixed aromatics.
The government also said that the fire caused little damage to environment and activity near the site had returned to "normal".
The latest blast recalled huge explosions caused by improper storage of chemicals at the port area of the northern city of Tianjin last August, when at least 165 people were killed and fears were raised of toxic contamination.
The massive blast in Tianjin had also sparked widespread anger over non-transparency of the causes and the impacts to local environment.
A warehouse storing chemicals and fuel exploded and caught fire in the eastern Chinese city of Jingjiang on Friday, April 22, 2016. (Photo/Sina Weibo)