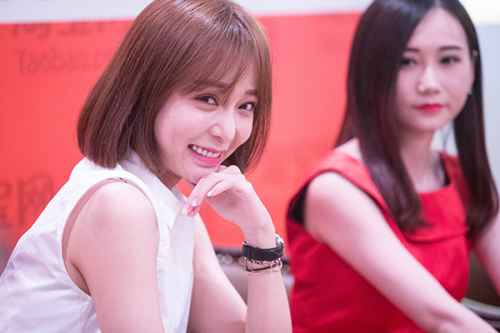 A snapshot of Internet celebrities. (Photo provided to China Daily)
Yu Xiao, a junior student at Zhengzhou University in central China's Henan Province, usually winds down after classes by browsing the makeup tutorials of her favorite beauty bloggers on the Sina Weibo social network.
Yu, 21, has been doing it since high school. Back then, she would talk about a cute headband with her friends or save a month's pocket money to buy a wave-point skirt that a blogger had worn. Now, even though she sees herself as more "mature", she still makes purchases based on product reviews by bloggers.
In Beijing, sophomore student Sunny Ren, 20, is a devoted fan of a self-claimed aroma-therapist blogger with more than 3.7 million followers on Weibo. In February, just before the Spring Festival holiday, Ren spent 599 yuan (92.5 U.S. dollars) - a small fortune for a woman her age - on the blogger' s shop on Taobao, China's biggest e-commerce platform, buying a couple of essential oil kits, including a bottle of verbena floral water touted as a treatment for her acne-prone skin.
Millennials - the people born in the 1980s and 90s - are shaking up business models around the world. Young Chinese like Yu and Ren, the "Post-90s" generation born in or after 1990, are the center of a budding "online celebrity economy" in the country.
The notion of the "online celebrity" in China has evolved alongside social media. Initially, it was a person who suddenly went viral because for some unusual reason, be it beauty, wealth or outlandish rhetoric. Nowadays, it's more about those who create original content, including articles, photos and videos, to build a dedicated audience on social media.
These self-made cyber stars are cashing in on their massive followings, and making their intellectual property hot investment potential, says Chen Hui, an analyst at Everbright Securities.
They have number of ways to generate revenue. Some influential names can easily earn handsome sums through subscriptions, online "tips", advertisements and commercial activities, according to Chen's research.
New content creators are creating new opportunities. Last month, a 29-year-old girl who gained fame by posting spoof or satirical videos, secured venture capital funding of 12 million yuan to promote her own programs.
However, the most common business model for web celebs is to develop their own brands, usually clothing or makeup, and sell the products to their followers, Chen says.
Top bloggers, such as Ren's aroma-therapist, start their own companies and rack up millions in sales to their huge fan bases. Lesser known personalities turn to agencies for help.
Nestling in a 300-square-meter office in Beijing's fashionable Sanlitun district, Xu Zihan's Weidu Impression Co. represents dozens of "cyber stars" with an average following exceeding 100,000 on Weibo or other social media.
Apart from matching the talent with advertisers and managing their accounts, Xu's core business is to help them build their own clothing brands. Her agency provides end-to-end services, from design to manufacturing to online sales, for a pre-determined cut of the profits.
Xu finds most of the consumers are Post-90s - the same generation as most of her celebrity clients. The only exception was born in 1989.
In Xu's eyes, the Post-90s are "social media natives". Still in the process of defining themselves, they are eager for new experiences, so online celebrities who focus on personality and lifestyle have a natural appeal.
Chen, from Everbright Securities, says the Post-90s generation - born with access to Internet and growing up with the emergence of social media - is more willing to spend online, more so even than those born in the 1980s.
Personality is the key for social media stars to sustain their following, and it resonates with the Post-90s spirit "to be idiosyncratic," Chen says, adding, "And despite being esteemed in the virtual world, they appear to be more 'real' than conventional celebrities."
Both Yu and Ren perceive cyber stars as less distant than traditional celebrities. For example, Ren particularly related to one blogger because they both loved small animals, and she was fond of another blogger who was "blunt" and enticingly self-deprecating.
"I think they're just like us, only prettier or richer," says Yu, although she concedes that she now finds some of her high school favorites to be "shallow and empty" and overcharging for their products.
But, Yu says, some of her peers are less rational. "You see some really devout fans who say everything sold by a certain blogger is great, even if it obviously isn't."
Xu, the agent who was born in 1985, also struggles to make sense of the Post-90s generation. "Honestly, I don't truly understand their enthusiasm for the cyber stars," she admits. "So I hire people who are dedicated fans."