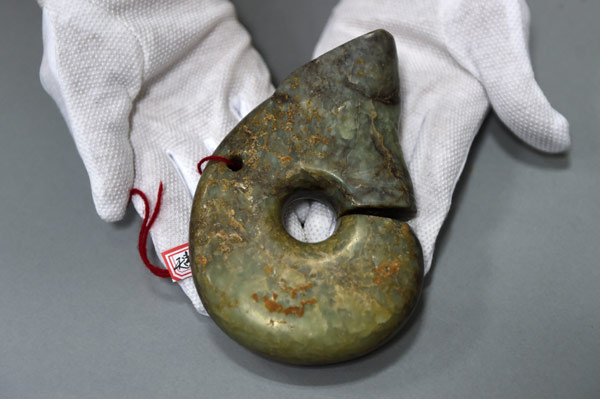 Police display a recovered jade dragon that is 5,000 to 6,000 years old.
A court has sentenced the head of a tomb-raiding ring to death with a two-year reprieve for robbing ancient graves and trafficking in cultural relics stolen from the Hongshan cultural relics protection region.
Another three key members of the gang received life sentences for excavating ancient graves and cultural sites, Chaoyang Intermediate People's Court in Liaoning province said on Thursday.
"The high-profile tomb robbery case is considered the largest example of cultural relics robbery since the founding of the People's Republic of China in 1949. The number of cultural relics and people involved in the thefts both set records," the court said in a statement.
Discovered in 1921, the Hongshan region in Liaoning province is a key national relics site and was a candidate for a UNESCO World Cultural Heritage designation in 2013. The region along the border of Lingyuan and Jianping counties includes a large altar believed to be 5,500 years old.
The court said a gang led by Yao Yuzhong formed a secret chain of workers to conduct the crimes, including some who provided financial support, invested in equipment, excavated the tombs and sold the relics. Another 18 gang members received sentences ranging from three to 15 years.
"Yao directed others to excavate the nationally protected cultural relics ... causing great losses for our national heritage. The circumstances of such a crime are very serious, and the suspect is subject to death," the court said. In Yao's case, the reprieve means his sentence could be later reduced to life in prison.
The high-profile case dates to 2014, when police were tipped off about the crimes and evidence of tomb raiding was found in the Hongshan region.
The Ministry of Public Security directed Liaoning police to form a special investigation team. In July, police identified 12 tomb robbing gangs and detained 225 suspects. They recovered 2,063 cultural relics, including 248 pieces considered to have national value.
In January, Chaoyang Intermediate People's Court sentenced five of those defendants to life in prison, including Yao's brother, Yao Yufei. Another 25 defendants received sentences ranging from three to 15 years. Sentencing of the other defendants is pending.