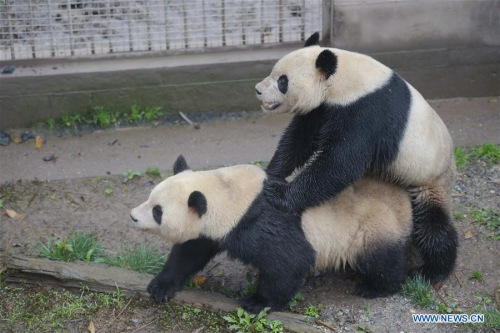 Giant panda "Yang Yang" (R) mates with giant panda "Su Shan" at the Bifengxia base of the China Conservation and Research Center for the Giant Pandas in Ya'an City, southwest China's Sichuan Province, April 14, 2016. The center captive-breeds the world's largest panda population -- 218 as of the end of 2015. Twenty-six female pandas have been selected in this year's mating plan. (Photo: Xinhua/Xue Yubin)
Two captive giant pandas at a breeding base in southwest China's Sichuan Province mated naturally on Thursday, according to sources with the base.
A female panda named Su Shan and a male panda, Yang Yang, mated at the Ya'an base under the China Conservation and Research Center for the Giant Pandas on Thursday morning.
So far, 15 out of 26 female pandas selected for this year's mating plan have finished mating, said Zhang Guiquan, director of the base.
Five-year-old Su Shan was initially supposed to mate with 10-year-old male panda Yi Bao. However, Su Shan and Yi Bao ignored each other while sharing a den and made noises indicating their rejection of the arranged pairing.
Zhang selected another male panda,Yang Yang, to replace Yi Bao, though 17-year-old Yang Yang is already considered old for the species.
"Male captive pandas capable of natural mating are extremely rare, accounting for less than five percent of the whole population," said Zhang. "So female pandas do not have much choice."
To help Su Shan become interested in Yang Yang, breeders played Yang Yang's sounds to her before they were placed together.
Breeders then used a pole to touch Su Shan's tail, stimulating her desire to mate. Soon, Su Shan and Yang Yang were congenial with each other and mated successfully.
Panda experts at the base said Su Shan is very likely to get pregnant. They will know if Su Shan is pregnant in about two months.
Female pandas tend to choose a favorite partner to mate. There are only two or three days each year when they are likely to get pregnant, and their eggs only live for 36 to 40 hours, making conception even more difficult.
Panda experts have to find the "right" male panda with 36 hours. If they miss the window, even successful mating will not result in pregnancy. Because of this, experts often resort to artificial breeding, according to Zhang.
Giant pandas have a low fertility rate due to their sexual apathy. Female pandas become pregnant only once a year and deliver at most three cubs.