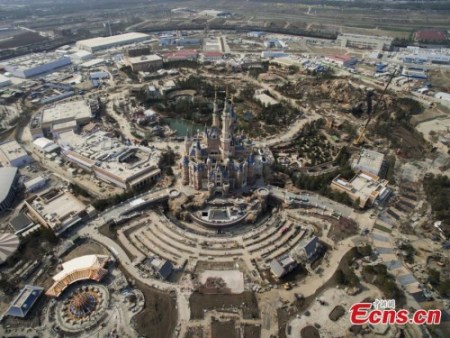 An aerial view of the new Shanghai Disney Resort on March 27, 2016 in Shanghai's Pudong New Area. The first Disney theme park on the Chinese mainland will open on June 16. (Photo: China News Service/ Zhang Henwei)
Shanghai police have busted a gang they accuse of having used fraudulent job ads for Shanghai Disneyland to con 3 million yuan (463,000 U.S. dollars) in broker's fees from more than 200 applicants.
Police announced the arrest of three suspected gang leaders on Thursday, two months away from the opening of Disney's first theme park on the Chinese mainland.
A taxi driver surnamed Li was the first to report the scam to police. He said he quit his taxi business after the Disney job offer, for which he paid 13,000 yuan to the broker.
However, the management position that was offered by the brokerage turned out to be a cleaning job.
According to police, one of the suspects confessed that he pretended to be a senior Disney executive to recruit staff.
The June opening of the Disney park in Shanghai has triggered a sales rush after tickets became available in March. Park passes for the resort's opening day were snapped up in minutes.