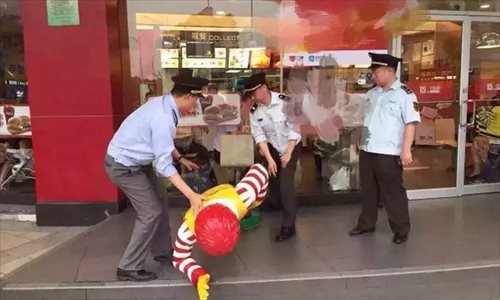 (Photos/Xinhuanet.com)
Urban management officials in Guangzhou confiscated a smiling Ronald McDonald statue from a sidewalk outside a McDonalds restaurant Sunday, leaving only its shoes and questions from local residents behind.
The Huadu district officials, or chengguan, said they removed the iconic clown from its fixed base because it was blocking pedestrian traffic, cnr.cn reported.
Photos show the officers escorting Ronald off the premises following a dispute with the restaurant's manager over their objections to McDonald's advertising boards outside the Longzhu Road outlet.
When the manager argued that the nearby Ronald statue had not been an issue in the past, officers saw his point and took the mascot as well.
His red shoes and the statue base are all that remains outside the restaurant.
During the melee some customers questioned officers why Ronald was being dismantled while two large statues of Chinese cartoon characters Pleasant Goat and Big Big Wolf flanking a parking lot entrance were allowed to stay.
"We will deal with them later," a chengguan was heard saying.
Social media ate up the delicious drama.
"These chengguan must be working for KFC," a Net user commented.
A Xinhua substreet office employee said they have not yet received any requests from the restaurant to return Ronald.
Managers can pick him up once they admit fault and accept their punishment, he told cnr.cn.