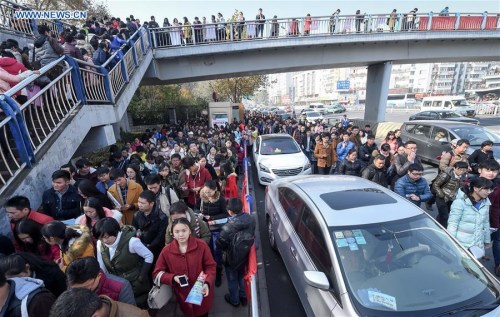 Candidates walk out after taking the civil servant exam in Hefei, capital of east China's Anhui Province, Nov. 29, 2015. (Photo: Xinhua/Zhang Duan)
China's civil servants must take exams and be evaluated on their legal knowledge, and abide by the law when exercising power, according to an official document issued on Thursday.
The national recruitment exam for civil servants will put more weight on the candidates' knowledge of the law while incumbents must take exams before being promoted, said the document titled Guidelines on Improving the Arrangements for Civil Servants to Study and Use the Law.
The document, passed in January by the Central Leading Group for Deepening Overall Reform, was jointly issued by the organization and publicity departments of the Communist Party of China (CPC) Central Committee, and the ministries of justice and human resources.
The move aims to enable civil servants to "boost their abilities to deepen reforms, push forward development, resolve conflicts and safeguard stability on the track of the law", the document says, adding that leading officials at all levels should set an example by obeying the law and doing things in accordance with the law.
The decision on comprehensively advancing the rule of law was adopted at the fourth plenary session of the 18th CPC Central Committee in October 2014.
Ma Qingyu of the Chinese Academy of Governance said, as a regulative document issued by the central authorities, the guidelines carry weight and will help bring all the visions concerning rule of law and law-based administration into reality.
OFFICIALS MUST LEARN LAW
Those who seek jobs in law enforcement agencies will take a special examination.
The law will be an important performance criterion and a key step to promotion. Leading officials of Party and government departments will have an annual review of their knowledge.
Since the 18th CPC National Congress in late 2012, the CPC leadership has repeatedly instructed senior officials to lead by example in abiding by the law and studying the law, but some of them have not paid enough attention to the issue, and a few of them have knowingly broken the law, a Ministry of Justice official told Xinhua.
The guidelines stress the study of the Constitution, the basic laws of the country, laws closely related to social and economic development and the daily life of the people, laws related to civil servants' official duties, as well as the rules of the Party.