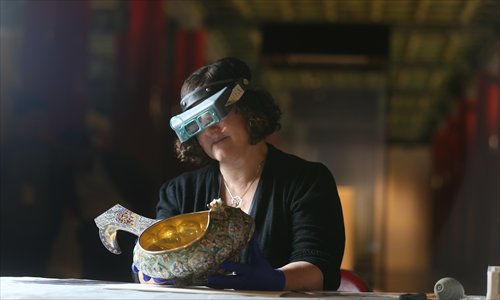 A representative from the Virginia Museum of Fine Arts examines an enamel bowl that once belonged to the Russian royal family on Wednesday at the Palace Museum in Beijing. (Photo: Cui Meng/GT)
An exhibition featuring over 200 pieces of Fabergé artworks from the Virginia Museum of Fine Arts (VMFA) will be on display from April 15 to July 17 at the Palace Museum in Beijing's Forbidden City.
Russian jeweler Peter Carl Fabergé (1846-1920) was famous for making Easter eggs inlaid with gemstones and precious metals for the Russian imperial family. His revolutionary jewelry designs led to the Fabergé name being equated with exquisite craftsmanship and luxury Russian jewelry.
A precious treasure trove, VMFA's Fabergé collection is the largest outside of Russia.
Highlights of the exhibition include the Fabergé eggs made for Peter the Great and those Nicholas II gave as gifts to his queen and mother.
Other luxury items such as pins, frames, tableware and umbrella handles will also be on display.
The Chinese curator of the exhibition, Song Haiyang, told the Global Times that although the Palace Museum possesses a large amount of artworks from the West, most of these are mechanical clocks. As such, small handcraft items such as those seen as part of the Fabergé exhibition are a rare sight at the museum.
The exhibit marks one of the major cooperative events held between the two museums since they established a cooperative partnership in May of 2011.