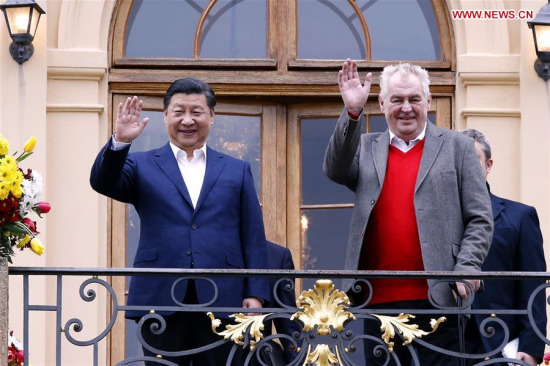 Chinese President Xi Jinping (L) meets with Czech President Milos Zeman at the Lany presidential chateau in central Bohemia, Czech Republic, March 28, 2016. Xi started a three-day state visit to the Czech Republic from Monday, the first state visit by a Chinese president in 67 years since the two countries established diplomatic ties. (Photo: Xinhua/Ju Peng)
Seeking genuine friendship and cooperation across the world, Chinese President Xi Jinping has shown an innovative and practical diplomatic style.
His just-concluded state visit to the Czech Republic serves as a good example. [Special coverage]
During the fruitful visit, the two countries elevated their bilateral relations to a strategic partnership.
The two countries agreed to enhance cooperation in fields such as production capacity, finance, nuclear energy, e-commerce, communication and environment protection.
But the 49-hour trip was not all about formal meetings, talks or inking of agreements. Family-style receptions as well as interesting and heart-warming side events formed a big part of the historic visit, the first to the Czech Republic by a Chinese head of state in 67 years.
The visit began with a "no necktie" meeting at Lany Chateau, the official summer residence for the Czech president outside Prague, and concluded with a beer-toasting farewell at a picturesque medieval library overlooking Prague.
During the visit, Xi, who is an enthusiastic sports fan, met with budding football players and ice-hockey players from both countries.
Accompanied by Zeman, Xi watched the Czech Boys Choir performing a masterpiece of Bedrich Smetana, commonly known as the father of Czech music.
Another highlight of the visit was that Xi and Zeman joined hands to plant at Zeman's summer residence a ginkgo sapling, which was brought from China as a gift for the Czech Republic.
Xi said that ginkgo, a symbol of long-lasting friendship in Chinese culture, signified the friendly ties between the two countries.
During Zeman's visit to China in 2014, the Czech president presented Xi with an apple tree sapling, which is symbolic of cooperation in his country.
The exchange of meaningful gifts reveals the affinity between Xi and Zeman, who was warmly welcomed by the Chinese president in Beijing when he attended China's V-Day Parade on Sept. 13, 2015.
Analysts believe that private interactions between leaders can help them better understand each other's thoughts and the situation in each other's country, and thus help avoid misunderstandings.
The one-on-one talks between Xi and U.S. President Barack Obama at Sunnylands, California, in 2013 and at Yingtai, Beijing, in 2014 were seen as successful applications of "no-necktie diplomacy."
During Xi's successful state visit to Britain in late 2015, British Prime Minister David Cameron also displayed a private, family-style hospitality toward the Chinese leader.
With fish and chips and two pints of Greene King IPA, Cameron treated Xi to a very British night at a pub near Cameron's residence of Chequers after a state banquet at Buckingham Palace and a welcome dinner at London's Guildhall.
After a 20-minute stay in the pub, Xi and his wife, Peng Liyuan, joined Cameron and his wife, Samantha, at Chequers for talks and dinner together.
The two leaders had more than four hours of in-depth discussion on governance, bilateral relations and global affairs at the countryside house.
During Xi's visit, China and Britain redefined bilateral relations as a "global comprehensive strategic partnership for the 21st century," setting sail for a golden era in their relations featuring enduring, inclusive and win-win cooperation.